Babri Masjid case's chief litigant Mahant Bhaskar Das is dead
Updated on Sep 16, 2017 02:31 PM IST
Nirmohi Akhada priest Mahant Bhaskar Das had filed a claim for the Ramjanmboomi land's ownership in 1959.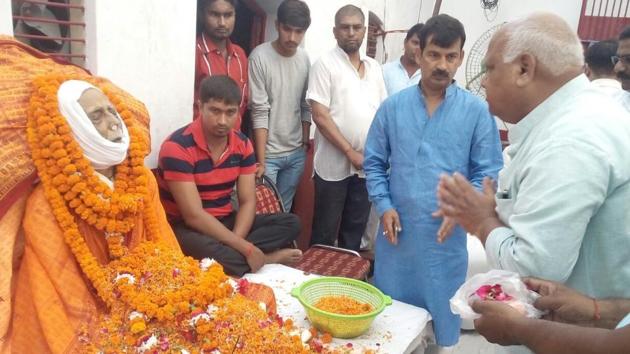 Mahant Bhaskar Das, the chief litigant in the Ram Janmbhoomi-Babri Masjid case and the sarpanch mahant (chief priest) of the Nirmohi Akhada in Ayodhya, died on Saturday. He was 89.
With his death, both the chief litigants in the case from the Hindu and Muslim sides have passed away. Hashim Ansari, the oldest litigant in the case, died at the age of 95 in July 2016.
Though Ansari and Bhaskar Das were rival litigants, the close and cordial friendship between them was just famous as their status of being litigants.
Bhaskar Das, who was unwell for a long time, was taken to the Harshan Heart Institute in Faizabad on Wednesday night after having severe breathing problems. He breathed his last around 3am on Saturday.
The Nirmohi Akhada priest had filed a claim for the Ramjanmboomi land's ownership in 1959.
Apart from being the Nirmohi Akhada sarpanch, he was also the mahant of the Naka Hanuman Gadhi in the temple town in Faizabad district of Uttar Pradesh.
His body has been placed at the Naka Hanuman Gadhi for people to pay tributes and the mortal remains will be cremated on the banks of the Saryu river in Ayodhya.
According to Naka Hanuman Gadhi, Bhaskar Das was born in Ranideh village in Gorakhpur in 1929. His father was Bhagwat Pathak.
When he was around 16, Bhaskar Das joined the Naka Hanuman Gadhi temple and began performing service at the temple and his religious studies.
Mahant Das's role in the Ram Janmboomi-Babri Masjid case:
In 1959, Nirmohi Akhada's mahant Raghunath Das filed a case claiming Ram Janmbhoomi. At that time, Bhaskar Das, who was in charge of rituals at Ram Chabutra on the premises, too joined the case and filed the claim.
After the Lucknow bench of the Allahabad High Court gave a verdict in the case on September 30, 2010, Bhaskar Das filed a petition in the Suprme Court for ownership of the entire Ramjanmbhoom premises. The case is still going on, and now after Bhaskar Das' demise, his disciple mahant Ram Das is likely to take over as the litigant.
Personalise your news feed. Follow trending topics