'BBC documentary blocked, not movie on Godse': Owaisi to PM Modi
Jan 23, 2023 09:59 AM IST
Asaduddin Owaisi sought action on a movie which is due to release this week.
Hyderabad MP Asaduddin Owaisi has joined the opposition leaders who have criticised the government action against the BBC's two part documentary on the riots in Gujarat about two decades ago. The AIMIM (All India Majlis-e-Ittehadul Muslimeen) leader was speaking at an event on Sunday when he sought a ban on the movie "Gandhi Godse: Ek Yudh", which is due to release on January 26 on Republic Day. He sought the move after the central government blocked access to the BBC documentary - "India: The Modi Question"' - last week on social media, including YouTube and Twitter. The first part was recently released, but not in India.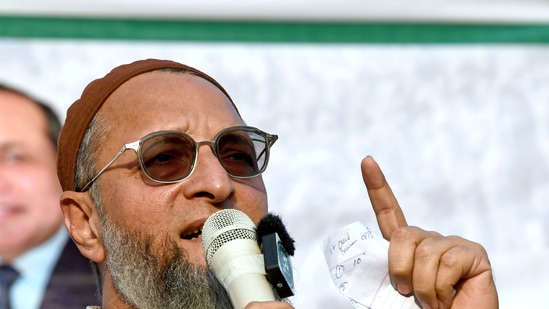 "You people have been seeing that discussions are being held on the BBC documentary on PM Modi, who was the chief minister when the Gujarat riots took place. The Modi government has blocked the documentary on the basis of a law which is linked to colonial era," the Lok Sabha MP is heard saying at an event. "Were you not the chief minister when the riots took place.. Bilkis Bano was gang-raped...a Congress MP was killed," Owaisi further says, referring to Ehsan Jafri.
"But a movie is being made on Godse, who killed Mahatma Gandhi... will India's PM ban the movie? I have myself seen it... the movie talks about why Gandhi was killed by him. So when the BBC shows something about PM Modi, it's problematic but there is a movie on man who killed Gandhi and . Narendra Modi is not bigger than Gandhi," Owaisi said further, while addressing the event. "Why this bias? Did their (BJP's) MP not praise him? What kind of India is being formed. On G20 posters, democracy is being endorsed... but YouTube bans are being implemented," he further stresses.
Leaders of the Congress, the Trinamool Congress previously questioned the move on the documentary even as the central government has dismissed it as a "propaganda piece". Law Minister Kiren Rijiju on Sunday tagged it as "malicious".