BJP has fulfilled PM Modi's campaign promise of giving
₹

15 lakh: Rajasthan party chief

Jul 18, 2018 10:10 AM IST
Rajasthan BJP president Madanlal Saini enumerated the benefits announced by the Central and state government schemes to the poor and underprivileged to buttress his claim. He said, "If you combine all the benefits, the poor have got ₹15 lakh."
The Bharatiya Janata Party's (BJP) new president in Rajasthan Madanlal Saini said in an interview that Prime Minister Narendra Modi's campaign promise of transferring ₹15 lakh to the people had been indirectly fulfilled.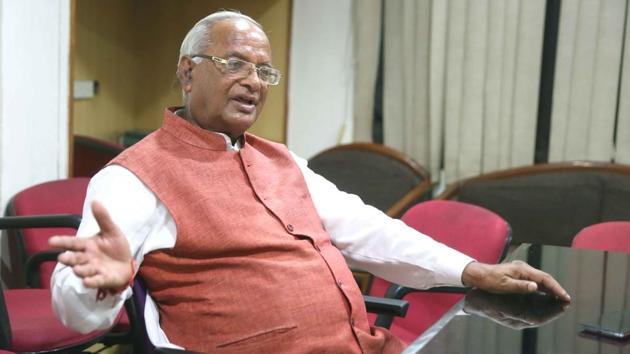 Prime Minister Modi made the promise of bringing black money stashed away abroad by Indians back to India and enrich every Indian when he was still candidate Modi; in 2015, several months after the BJP came to power, party president Amit Shah said Modi's promise was idiomatic and said everyone knew that black money, if retrieved, would anyway not go into the accounts of ordinary Indians.
Saini had a different spin on that. "Nobody gives cash, but arrangements have been made so that the poor have got benefits to the tune of ₹15 lakh," he explained, adding for effect that the government couldn't be expected to "give ₹15 lakh to Ambani", a reference to Mukesh Ambani, who was recently named the richest man in Asia.
Saini enumerated the benefits announced by the Central and state government schemes to the poor and underprivileged to buttress his claim. "If you combine all the benefits, the poor have got ₹15 lakh," he said.
Commenting on reports of suicides by farmers in the Hadauti region, Saini said this was unlikely. "I am a farmer myself. We in Shekhawati have to pull out water from a depth of 500 feet and many times are not able to sow the seeds. Farmers of Rajasthan are used to struggle and hard work. Some farmer might have died due to natural causes."
Rajasthan, like many other states, is in the midst of an agrarian crisis caused largely by market conditions (falling prices for farm output) and the government announced a loan waiver last year to address the problem.
However, that doesn't seem to have been enough, and experts say that farm distress could be one variable affecting the outcome of assembly elections due in the state by the end of the year.
Saini also defended the BJP's election promise in 2013 of creating 1.5 million jobs in Rajasthan. At the time, reports said these were government jobs. Saini clarified the BJP had never meant government jobs. "We have given 2-3 lakh government jobs (over four years). Then, there have been other employment opportunities… if you do the total, we have given ₹15 lakh jobs."
Saini also addressed perceptions that chief minister Vasundhara Raje was inaccessible.
One has to appreciate the fact that the CM is a woman and can't meet people all the time, he explained. "You and I can meet if you are shaving or brushing your teeth. Sometime I meet people while washing clothes, but a woman can't do that." He added that the CM had been visiting constituencies and meeting people and party workers.
There have been reports that the BJP could look at performance and winnability before selecting candidates for elections, with the possibility that sitting legislators may sometimes not get a ticket. Saini confirmed this. "Getting a ticket is not a right. It is party's decision based on the decision of the parliamentary board. We have to see the social equation and look at the work done by a particular MLA and it also depends on the feedback received from the people."