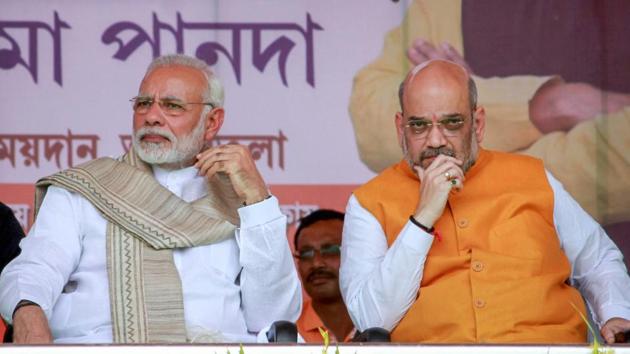 BJP-led NDA sets early deadlines for central schemes with eye on 2019 election
Focus will be on key welfare programmes and farm and rural sector schemes in the wake of agrarian distress. Most central programmes originate at the Centre but they are implemented and monitored at the level of the states.
Hindustan Times, New Delhi | By Zia Haq and Moushumi Das Gupta
, New Delhi
UPDATED ON MAR 24, 2018 07:12 AM IST
As it heads into general elections next year, the Narendra Modi government has set early deadlines for implementation of key welfare programmes and farm and rural sector schemes in the wake of agrarian distress caused by a slump in the prices of agricultural produce and drought in some parts of the country.
To avert the potential political cost of delays in getting such programmes off the ground, various ministries are pushing the states to speed up implementation of proposals unveiled in the Union Budget. "This is a year of consolidation and implementation. The government is fully focused on ensuring that promises made and schemes announced are implemented," a senior official said on condition of anonymity.
In a letter last month, the finance ministry asked ministries to track states that receive money from the Centre for implementing specific schemes, a second official said. States should submit plans early and also ensure that money already disbursed is spent on the schemes for which it was allocated. It also called upon ministries to ensure funds aren't allowed to idle.
In a move a third official described as "unprecedented", agriculture minister Radha Mohan Singh held a video conference on Wednesday with all chief secretaries as well as principal secretaries in charge of agriculture, asking them for annual agriculture-sector action plans for 2018-19 to be submitted by April 15.
The farm ministry has said it was in a position to allocate funds within 10 days of receiving proposals from the states.
Most central programmes originate at the Centre but they are implemented and monitored at the level of the states.
The finance ministry has also asked states to account for the central share of funds disbursed and used in their state budgets "The government's budgetary legroom is anyway tight. So, the idea is to also ensure greater accountability in use of funds," the official cited in the first instance said.
States are being urged to send their first proposals for the 2018-19 financial year in a manner that these include, in monetary terms, at least 50% of the agricultural allocations, the second official said,requesting anonymity.
Last year, delays meant that the first instalments of central funds went out only around July.
Farmers in many states, including the BJP-ruled MP, Maharashtra and Rajasthan, are protesting poor returns from their produce and demanding full waiver of all agricultural loans.
Agriculture contributes just 13.7% of India's gross domestic product (GDP) but employs two-thirds of its population. This points to low productivity and 'disguised employment', a scenario in which more people are employed than are necessary for a given level of output.
The Modi government has announced that it would help double farmers' income by 2022. In the budget, finance minister Arun Jaitley said minimum support prices paid to farmers would be fixed at 50% more than the cost of production.
These efforts depend on how quickly farm programmes are implemented on the ground.
A key thrust area is the so-called centrally sponsored schemes, whose funding is shared by the Centre and most states in the ratio of 60:40, and 90:10 for the north-eastern states, J&K, Himachal Pradesh and Uttarakhand. Such schemes are funded entirely by the Centre in the case of Union Territories.
The agriculture sector accounts for five "core" schemes: Krishi Unnati Scheme and Rashtriya Krishi Vikas Yojana, White Revolution that's targeted at milk production, Blue Revolution for integrated development of fisheries and the Pradhan Mantri Krishi Sinchai Yojana, an irrigation scheme which promises water for every farm.
Given India's rural slowdown, the Budget for FY19 raised allocations for the farm ministry by 14.5% from ₹50,263 crore to ₹57,600, crore which includes interest subsidies for farm credit.
Close