BSF soldier video: Force says he's alcoholic, jawan claims pressure to remove posts
Jan 27, 2017 09:34 PM IST
The BSF said Tej Bahadur Yadav – a soldier deployed along the Indo-Pakistan border in Jammu and Kashmir – had a "difficult past" and needed regular counselling
A war of words broke out on Tuesday between the Border Security Force and one of its personnel who alleged in a series of viral videos that troops were served inedible food and rations was often siphoned off.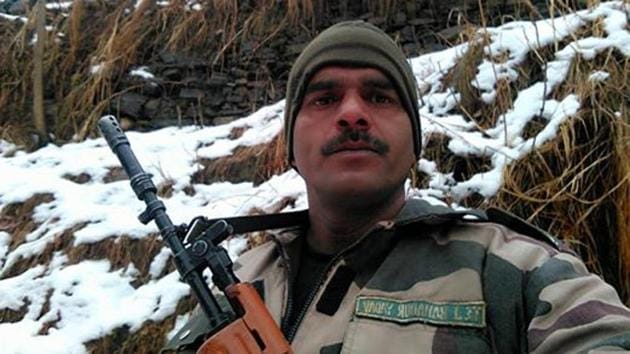 The BSF said Tej Bahadur Yadav – a soldier deployed along the Indo-Pakistan border in Jammu and Kashmir – had a "difficult past" and needed regular counselling.
"Different correction mechanics have been applied as he was habitual offender of absenteeism without permission, chronic alcoholism, misbehaving and using force with superior officers and certain other acts against good order and discipline," the force said in a statement. The BSF also ordered a "fair and transparent" probe.
Read | BSF jawan video: Govt takes 'serious note', says welfare of soldiers a priority
But in a conversation with India Today, Yadav alleged that his duty had been changed after the videos and his commander pressed him to take down them down.
Yadav told the news channel he believed authorities wouldn't target him as the video has gone viral. "I am not afraid of losing my job...I have shown what the reality is at the post". "If soldiers [are] benefited because of me, then I am ready to fight," the channel quoted him as saying.
The force added that he had been sent to his current post only 10 days back and that neither he nor 20 of his colleagues at the post had complained when senior officers visited last week.
"In spite of him being a bad hat, proper time has been devoted for the individual's improvement as a welfare to the individual."
Read | HT Exclusive| Flaws put lives of soldiers at risk, says army report
In four different videos released online, Yadav talked about the kind of conditions soldiers worked under and also went on to apparently show the kind of food that is allegedly being served.
"We only get a 'parantha' and tea as breakfast and this is without any pickle or vegetables... we slog for 11 hours and at times we have to stand throughout the duty hours. For lunch, we get 'dal' (pulses) which only has 'haldi' (turmeric) and salt... with roti. This is the quality of the food we get... how can a jawan do his duty? He also alleged that senior officers sold off ration meant for soldiers.