BSF to use capsicum-based teargas for crowd control
The new bio-friendly oleoresin capsicum-based teargas shells will be produced in collaboration with DRDO and the chilli will be sourced from northeast and Andhra Pradesh.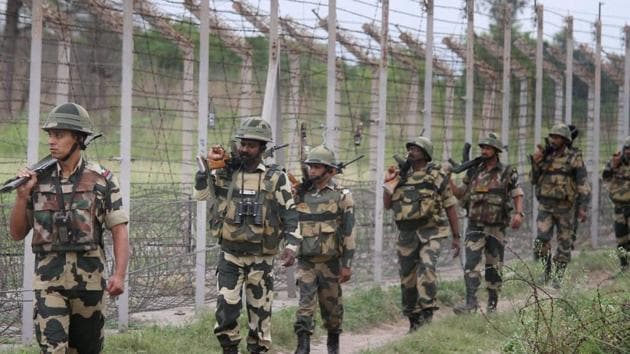 Updated on Jul 21, 2017 09:30 AM IST
After trying out PAVA shells, security forces have now turned to capsicum gel-based teargas to quell mobs in the Kashmir valley and other places.
A senior BSF official said the new teargas will be ready for use by security forces in spray can and shell forms, as early as next month.
The non-lethal munition can be used by security forces at any location in the country where there is a law and order problem but the largest inventory of the product is expected to be shipped to the Valley owing to the number of public protests and incidents of stone pelting, the official said.
The shells will be produced by the Tekanpur (Madhya Pradesh)-based Tear Smoke Unit (TSU) of the Border Security Force.
Last year, the TSU had launched the PAVA teargas munitions which, the BSF said, was "effectively" used by various police and security forces.
However, sources in the security establishment had said the personnel on ground in Kashmir had given feedback that PAVA (Pelargonic Acid Vanillyl Amide) was not an effective replacement for the controversial pellet guns and hence some other non-lethal ammunition should be provided to them to counter stone pelters and protestors.
The new bio-friendly oleoresin capsicum-based teargas shells will be produced in collaboration with the Defence Research and Development Organisation (DRDO).
The official said the chilli ingredient for these new munitions will be sourced from the jungles of the northeast and Andhra Pradesh and have two variants.
"One will be a teargas shell and the other spray can. The ultimate product will be helpful for police and security forces to combat both close-quarter and distant targets," the official said.
In the first go, about 50,000 shells will be produced by the TSU which will be followed by subsequent need-based orders from the forces.
An annual general body meeting of the TSU was also held under the chairmanship of BSF Director General K K Sharma at the forces' headquarters here today.
"The governing body also reviewed the progress of automation and production management of the TSU," a BSF statement later said.
PAVA was introduced last year by the Union home ministry after scores of protesters were blinded by the use of pellet guns in the Kashmir valley.
The pellet guns have not been discarded and are now used sparingly by the forces there.
Close Story