Can India meet sustainable development goals on poverty, hunger despite sluggish economy?
Niyamgiri (Kalahandi district), Odisha |
Charu Bahri (IndiaSpend)
Oct 14, 2017 03:49 PM IST
In 2014, India was ranked among the 20 countries with the greatest inequality. As a result, 343.5 million Indians, more than a quarter (28.5%) of the population, remain destitute.
Growing up in the late 1980s at the base of the Niyamgiri hill range, home to the animist, scheduled Dongria Kondh tribe, Dashrath Majhi was familiar with hunger.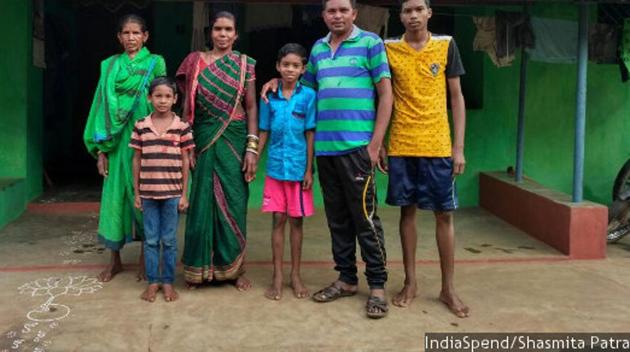 His family would eat millets as a staple and, during frequent shortfalls, his mother would feed the children powdered mango seeds and bamboo "rice", which are really seeds collected from the flowering bamboo grass.
Stay tuned with breaking news on HT Channel on Facebook.
Join Now
Today, Majhi, 45, has been working at an alumina refinery for longer than a decade, where he supervises construction works and takes home a salary more than four times the Rs 220 daily minimum wage for semi-skilled workers in Odisha.
Majhi's four children are growing up on a wholesome diet of millets, rice, wheat, corn, gram and green vegetables. Unlike the precarious food situation his mother faced, Majhi's wife stores a year's supply of grain.
Majhi's life has improved, like the lives of millions of his fellow citizens, thanks to robust economic growth–the Indian economy grew at 6.2% in the decade following liberalisation reforms in the early 1990s. Growth has powered substantial decline in poverty and its twin, hunger. Yet, while India has succeeded in reducing abject poverty, its hunger situation remains dire.
The just-released 2017 Global Hunger Index of the International Food Policy Research Institute (IFPRI) terms India's condition "serious", as IndiaSpend reported on October 12, 2017–an improvement from "extremely alarming" in 1990 but not enough to meet the MDG of halving the number of people facing hunger. India has slid three places from the 2014 list and is one of four countries with a fifth of its children suffering from wasting.
Source: 2017 Global Hunger Index
As India readies to reach the new and more ambitious Sustainable Development Goals, experts say the ongoing slowdown in economic growth could increase the need for government programmes to alleviate poverty and hunger, especially in rural areas, and is an opportunity for policymakers to invest public spending in capacity-building and health to make benefits sustainable.
Lesser poverty, but limited gains
India's average annual growth rate accelerated from 6.2% in the decade ending in 2003 to 8.3% between 2004 and 2011. The annual pace of decline in poverty during this time trebled.
Source: , 63 of the 100 districts with the highest prevalence of undernutrition among children younger than five years were classified as 'backward' and made eligible for the Backward Region Grant Fund.
This positive correlation between hunger and poverty is evident from data from districts with the highest prevalence of undernutrition among 5- to 18-year-olds as well as from districts with the most underweight 18- to 59-year-olds. (Undernutrition is a measure used for children and low body weight or body mass index for adults).
India had the highest prevalence of moderately and severely underweight under-19s in 1975, an unenviable position it has held onto through to 2016, according to a new Lancet study. In 2016, 22.7% girls and 30.7% boys in India were moderately or severely underweight, 97 million children and adolescents in all.
India's Multidimensional Poverty Index score also reflects widespread dietary deprivation, with 30.9% weightage assigned to undernutrition, as against 2% to drinking water deprivation.
Source: OPHI Country Briefing 2017: India
Links have been established between early malnutrition and low income as well as between anaemia and low productivity, Menon said.
Stunting, an outcome of poor nutrition in which a child is shorter for his or her age, has been found to adversely impact school performance, and adults who face stunting as children earn 22% less than their peers.
India has reduced stunting by 9.6 percentage points between 2005 and 2015, IndiaSpend reported in September 2017. Child nutrition is improving but slower than the other components of the MPI, Menon said, adding, "A big reason for India's poor Global Hunger Index status was and remains the child nutrition component of the indice."
As long as people remain confined within a cycle of poor nutrition and low earnings, India cannot remove poverty.
The way forward
To make up for the lack of equitable, diversified growth and job creation, India has relied on welfare programmes. The most famous of these is the livelihood security programme under the Mahatma Gandhi National Rural Employment Guarantee Act (MGNREGA). Launched in 2006, the programme is designed to provide each rural household with 100 days of assured unskilled manual work during the non-peak agricultural season each year.
In 2011, a comparative national study of 26,000 rural households on income, employment and household wellbeing found that MGNREGA had prevented 14 million people from falling into poverty that year, and reduced the number of people below the poverty line by between 25% and 32%.
Yet, MGNREGA has its shortcomings. While "we have no doubt that MGNREGA increased the consumption of goods and services among those who participated, the challenge is weak governance", Prem Vashishtha, senior consultant at the National Council of Applied Economic Research (NCAER) and co-author of the study which was undertaken in collaboration with the University of Maryland, USA, told IndiaSpend. He said gram sabhas (village councils) have been unable to formulate effective programmes or enrol genuinely needy people.
In Kalahandi, for instance, three of four households that demanded work through MGNREGA did not get it, as per a 2016 report by IFPRI initiative Partnerships and Opportunities to Strengthen and Harmonize Actions for Nutrition in India.
With continuing distress in the farm sector and non-agriculture growth in rural India slowing down, Vashishtha said the rural demand for assured work could only be expected to have grown, and MGNREGA has become even more important. As growth falters–the second quarter of the current fiscal recorded 5.7% growth, a three-year low, down from 6.1% in the preceding quarter–Vashishtha warned that "India could lose steam in its march to end poverty and hunger," and emphasised the need to improve the outcome of MGNREGA spending.
Outcomes can be improved through capacity enhancement and transparency at the local government level, and by targeting MGNREGA works towards creating productivity and income-enhancing community assets or, in special cases, assets on participants' lands, he said.
Yet, welfare schemes are not a complete or sustainable solution. Creating employable skills is essential, Shahid Ahmed, head, Department of Economics, Jamia Millia Islamia, told IndiaSpend. "Human resource capacity building is the key as is access to education and health services and empowering the poor through partnerships."
In particular, programmes must focus on women and girls. "Longstanding discrimination against women and girls, which affects their access to food, sanitation, care, and health services, is a key driver of poor nutrition outcomes in India," Menon said. "Changing this will take more than financing and programme implementation related to hunger and nutrition."
Data show that richer states have outperformed poorer backward states in caring for children, and states with the strongest growth have lower fertility rates as well as maternal mortality rates. This suggests that gender parity could be a game-changer in the fight against poverty and hunger–an area ripe for capacity building.
(With reporting by Shasmita Patra in Kalahandi, Odisha.)
(Bahri is a writer based in Mount Abu, Rajasthan, and Patra is a project manager with the Mahashakti India Foundation, a nonprofit that works in Odisha.)
(Indiaspend.org is a data-driven, public-interest journalism non-profit/FactChecker.in is fact-checking initiative, scrutinising for veracity and context statements made by individuals and organisations in public life.)