CBI chief Alok Verma loses his job again; this time he has been sacked
CBI chief Alok Verma was sacked by a high level selection committee comprising Prime Minister Narendra Modi on Thursday.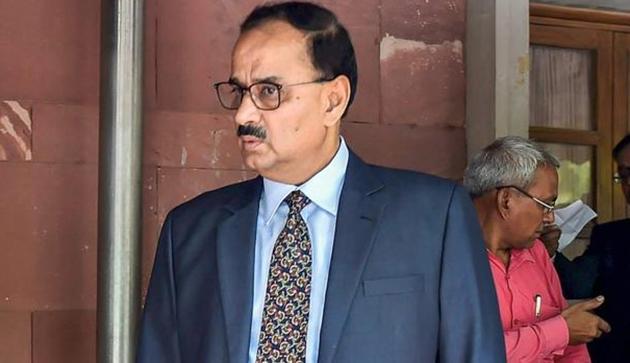 Updated on Jan 10, 2019 11:46 PM IST
Hindustan Times, New Delhi |
HT Correspondent
Two days after he was conditionally reinstated by the Supreme Court as director of the Central Bureau of Investigation (CBI), Alok Verma was removed from the agency again by the high-powered selection committee comprising the Prime Minister, the Chief Justice of India's nominee, justice AK Sikri, and the Leader of the single largest Opposition party, Mallikarjun Kharge.
Government officials said on condition of anonymity that the committee "felt that a detailed investigation, including criminal investigation, was necessary, in some cases…"
While PM Narendra Modi and justice Sikri were in favour of Verma's removal from the agency, Kharge opposed this, and also submitted a dissent note.
Verma, who was to retire on January 31, is the first CBI director to be removed by the committee before completing his two-year term.
The Department of Personnel and Training issued a note on Verma's new role immediately — director general, Fire Services, Civil Defence and Home Guards. The same note announced M Nageswara Rao, made the interim director of the agency on the intervening night of October 23 and 24, when Verma was divested of his powers by the government, was back in charge of the agency. Rao, whose powers were curtailed by the Supreme Court during his previous stint as acting director pending the disposal of Verma's case, faces no such restrictions now. Rao took charge at 9pm on Thursday, an official order said.
Watch: Alok Verma removed as CBI chief
The fate of the 24 transfer orders signed by Verma over the last two days wasn't immediately clear, although it is certain that Rao will probably rescind all of them.
In October, soon after Verma was divested of his powers, Rao transferred many of the director's key aides and associates in the agency, including some who were investigating the agency's special director Rakesh Asthana. The government divested Asthana of his powers, too, on the intervening night of October 23 and 24.
Asthana and Verma were engaged in an internecine battle that roiled the agency and split it down the middle.
In August, Asthana wrote to the cabinet secretary alleging that Verma was trying to influence investigations. On October 15, CBI filed a first information report (FIR) against Asthana alleging corruption.
Verma moved the Supreme Court when he was divested of powers. The court asked the Central Vigilance Commission (CVC) to investigate the charges against him. The investigation was monitored by a retired Supreme Court judge. HT learns that the CVC report lists 10 charges against Verma of which it indicts him in five cases, says further investigation is needed in two, and lists three as unsubstantiated.
Interestingly, Asthana sought the quashing of the FIR against him in the Delhi high court which will deliver a verdict on this at 2.15pm on Friday. Meanwhile, suspended deputy superintendent of police (DSP) Devender Kumar, who is out on bail after he was arrested over allegations of fabricating the statement of a witness in a case, approached the Delhi high court against Verma's decision to reverse the transfers of CBI officers.
In the meeting of the selection committee, Kharge, according to people familiar with the matter, said the CVC report was not sacrosanct and that some parts of it were unsubstantiated, and that Verma should be given a fair hearing. According to these people, justice Sikri tried to convince Kharge. When this failed, Modi pointed to the seriousness of charges in the report and told Kharge that he was free to submit a dissent note.
Also Read | 'What's the tearing hurry': Rahul Gandhi's jab at PM Modi over CBI chief
In his six-page note, Kharge asked the government to "order an independent investigation into the veracity of facts…" that if correct "would establish the conspiracy at the highest levels of the Government with statutory authorities being found complicit." He added that "the entire exercise was in furtherance of a premeditated decision to remove Alok Verma as CBI Director, with reasons and processes being manufactured as an afterthought."
Congress president Rahul Gandhi tweeted after the selection committee's decision to remove Verma: "Fear is now rampaging through Mr Modi's mind. He can't sleep. He stole 30,000Cr from the IAF and gave it to Anil Ambani. Sacking the CBI Chief #AlokVerma twice in a row, clearly shows that he is now a prisoner of his own lies. Satyamev Jayate."
The government officials cited in the first instance said the "panel was of the view that being the head of a very sensitive organisation, Verma was not functioning with the integrity expected of him."
The panel's decision was criticised by the Congress. Senior party leader Abhishek Singhvi questioned how Verma could be removed by the committee without a hearing. "How committee decided without natural justice? Without calling Alok Verma for a hearing? How removed on mere allegations found in CVC report. CVC provided shoulder for govt to fire gun, completely compromising his office. SC judges in committee do not exercise judicial powers & are reviewable as any other decision" Singhvi tweeted.
Union minister Piyush Goyal hit back at the Congress, pointing out that Kharge had opposed Verma's appointment as CBI director in 2016. "Indeed, Mr. Mallikarjun Kharge is a man of amazing consistency.When Shri Alok Verma was appointed CBI chief by the selection committee, he dissented. Now, when Shri Alok Verma has been removed by the same Selection Committee, he has dissented."
A person close to Verma said that he was likely to go back to the Supreme Court, seeking redressal on two grounds: one, the CVC is biased against him; two, he wasn't given a hearing by the committee before it took a decision. But government officials, who asked not to be named, contended that the committee did not need to hear Verma at all since both the CVC report and his rebuttal were considered by the panel before it decided to remove him.
Read: Back in charge of CBI, Alok Verma scraps transfer orders of interim director
Close Story