PM Modi in Lok Sabha: Congress ignored India to 'serve' Gandhi family
Updated on Feb 07, 2018 06:37 PM IST
Prime Minister Narendra Modi, in his speech in the Lok Sabha, said had Sardar Patel, not Jawaharlal Nehru, been the first prime minister of India "entire Kashmir would have been ours".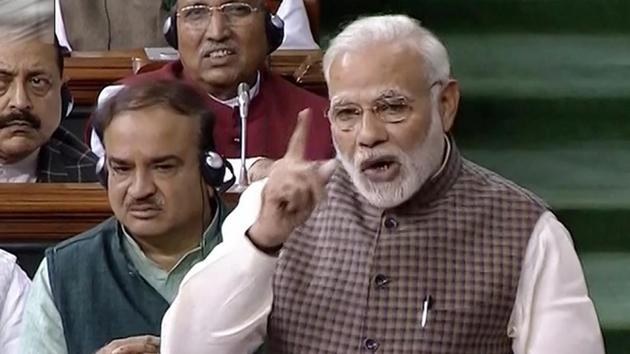 Prime Minister Narendra Modi on Wednesday accused the Congress of spending its time in power eulogising the Gandhi family at the cost of India's development.
Modi also dubbed NPAs as the UPA government's "sin" and reeled out figures to rebuff opposition criticism on unemployment and other issues.
In his over 90-minute reply in the Lok Sabha to a debate on the motion of thanks for the president's address, Modi alleged that lies were being spread to create a sense of disappointment among the middle class about his government. (Follow LIVE updates here)
Throughout Modi's speech, Congress members were in the Well demanding that promises made to Andhra Pradesh following its division be fulfilled, questioning the Rafale deal and raising slogans against the PM.
The Prime Minister, however, alleged Andhra Pradesh was suffering due to the "hasty decision" of the erstwhile UPA government to bifurcate the state in 2014 for "political benefits".
The Congress had similarly divided the country at the time of Independence for its selfish interests, he said.
"This is the same party that divided India. For decades, one party devoted all their energies in singing paeans to one family. The interests of the nation were overlooked just for the interests of one family," he said in his address.
Claiming that his government has a vision for the country's development while the Congress worked with a "petty mind", he said the "biggest tunnel on land, the biggest tunnel under sea, the fastest train and the biggest gas pipe line" were being built by it.
"We have to create a new India. Let us all make our contribution to fulfil to create it," he said, adding that criticism was democracy's strength, but not lies.
The president's address does not belong to one party but underlines the government's direction, he said, and, in a dig, asked opposition leaders to read it again and "seek others' help if they cannot understand its language."
The Lok Sabha adopted the motion with a voice vote after opposition parties -- Congress, Trinamool Congress and the Left -- staged a walk out, saying Modi did not address issues raised by them like alleged corruption in Rafale deal.
Modi claimed that the opposition has been attacking him as its leaders were "losing their sleep " due to his fight against corruption and black money.
Many of them are out on bail in corruption cases, he said, noting that four former chief ministers are behind bars.
"When the corrupt and middlemen are out of work, obviously the Congress will be unhappy... Nobody is going to be spared. Those who have robbed the country will have to return their loot to the common man," he said amid thumping of desks by treasury benches and loud sloganeering by Congress members in the Well.
He termed the non-performing assets (NPAs) a "sin" of the UPA government and said he was giving its details for the first time as had he spoken earlier, it would have seriously harmed the economy.
"NPAs are cent per cent a responsibility of the previous government. Banks were pressured and the chosen few were given loans," he said.
He said the Congress gave wrong figures as NPAs were 82% and not 36% and added that the total advance made by banks rose from Rs 18 lakh crore to Rs 52 lakh crore.
"People should now know the truth.... It is the interest on what you squandered away. These are your sins," Modi said targeting the Congress, and alleged that loans were given to the people who were close to those in power.
He said the opposition's protest against his government's use of Aadhaar was due to its scientific use to weed out corruption and give direct benefits to the people.
When his government took office in 2014, the chorus from the opposition was that he will scrap Aadhaar but when he made it more effective, they began opposing it, Modi said.
Countering criticism of the government over the issue of unemployment, he said opposition-ruled states of West Bengal, Kerala, Odisha and Karnataka have said that they have given employment to close to one crore people.
If the Centre is blamed for unemployment figures, then it should also be credited for employment data, he said.
"Don't try to mislead the people," he told referring to the opposition, adding that he had not cited figures of the BJP-ruled states but those where it was in power.
Seventy lakh new EPF accounts have been registered in the name of youths between 18-25 years of age, he said, citing measures like start-up India, skill India among others which have boosted the youth's aspirations.
"I can see the energy and enthusiasm in our youth. They want to do something on their own, they want to launch their own start-ups. Our government is giving wings to aspirations of India's middle class," he said.
Targeting the Congress for its charge that his government was muzzling their voice and threatening democracy, he said it had no right to talk of democracy as he cited "coronation" of Rahul Gandhi as its president, "insults" meted out to a Dalit chief minister of Andhra Pradesh and a presidential candidate by former prime ministers Rajiv and Indira Gandhi respectively.
A Congress leader, he said, had likened Rahul's elevation to Aurangzeb replacing Shahjahan and the latter taking over from Jahangir as Mughal kings. "And you talk of democracy!" he said making a jibe. "Don't give sermons on democracy to us. We know what you have done in the past," he said.
He also hit out at the Congress president, who was in the House, for presenting the government "in a wrong light" on his overseas trips. "Don't you feel ashamed," he asked without him.
When Indian Army was involved in a stand-off with the Chinese army in Dokalam, the Congress leader was speaking to Chinese officials, he said.
He recalled that BJP stalwart Atal Bihari Vajpayee had expressed his party's reservations to then prime minister Indira Gandhi privately during the Shimla agreement with Pakistan and did not harm India with any public criticism.
Reaching out to middle class, which opposition said was not benefitted from the Union Budget, he said lies were being spread to create a sense of disappointment among them.
He said his government was working on many fronts, like boosting infrastructure, education and health sectors, to make "ease of living" better for them. It has got new benefits of over 12,000 crore, he said.
"During much of the Congress rule after independence, there was little opposition presence, radio and then television were controlled by you and even judicial appointments were made by the government," he said.
But instead of focusing on the country's development, Modi said, "You spent the time singing paeans to one family. You worked to ensure that everything else is forgotten and only one family is remembered by people. If your direction and intentions were right, then the country would have developed many times more."
If Sardar Patel had been the country's first prime minister, then a part of Jammu and Kashmir would not be in Pakistan's control, he said, claiming that most units of the Congress had backed Patel over Jawaharlal Nehru, who eventually became prime minister.
Personalise your news feed. Follow trending topics