Congress in damage control after Kumaraswamy's 'swallowing poison' remark
Jul 16, 2018 01:21 PM IST
Kumaraswamy has been under pressure over a farm loan waiver since he took over in May. He has faced criticism after he presented his first Budget on July 5.
Karnataka deputy chief minister G Parameshwara attempted damage control on Sunday, a day after chief minister HD Kumaraswamy broke down while saying he was unhappy heading the state's Janata Dal (Secular)-Congress coalition government.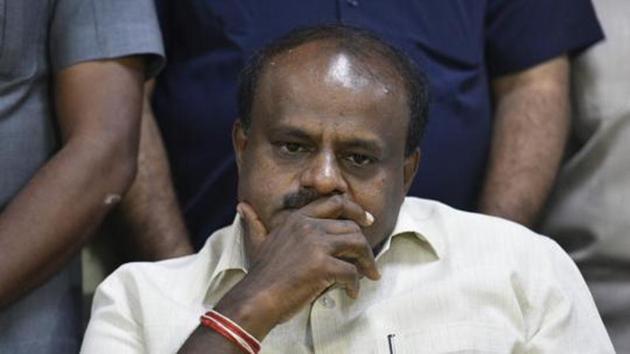 Kumaraswamy said his party workers were happy while he was not. "You are happy that your brother has become the chief minister, but I am not happy. The pain that I have within me, I have it like Vishakantha (a reference to Lord Shiva drinking poison). I did not become the chief minister to flaunt the title, but to fulfil the unfinished agenda of my father," he said at a JD(S) felicitation programme.
Kumaraswamy has been under pressure over a farm loan waiver since he took over in May. He has faced criticism after he presented his first Budget on July 5.
Many have called it Hassan-Ramanagara budget, referring to its alleged focus on southern Karnataka's Vokkaliga strongholds of JD(S).
Congress leader HK Patil wrote to Kumaraswamy, expressing his displeasure that the budget did not announce any new schemes for minority communities and for the state's northern regions.
Kumaraswamy alluded to the pressure he was facing from the Congress.
"Please understand why I am saying this. People say I should give 7kg free rice (under the Anna Bhagya scheme), but for this, I need to raise money. Then you also ask me not to increase taxes as well," he said.
He appeared to be responding to coalition coordination committee chief Siddaramaiah's letter last week telling Kumaraswamy that there should be no reduction in the amount of rice distributed under the scheme as indicated in the budget. "It is my understanding that you do not realise how many people will be affected by this," Siddaramaiah wrote.
Siddaramaiah had questioned the increase in sales tax on fuel announced to help raise funds for the Rs 34,000 crore farm loan waiver. "Our government and party, at the national and state level, have opposed Narendra Modi's decision to increase petrol and diesel prices, despite a reduction in crude prices internationally. This has led to price rise and has affected the people, which is why I have appealed to the chief minister to roll back the increase in tax."
The opposition Bharatiya Janata Party had cited the letter and eight others to attack Kumaraswamy.
Parameshwara sought to downplay Kumaraswamy's comments on Sunday, insisting the chief minister was happy and had to be so. "He must be happy, the chief minister has to be always happy. If he is happy, we will all be happy."
Congress leader Mallikarjun Kharge asked Kumaraswamy to be courageous to face the situation confronting him. "He has to fulfil the desire of the people and he cannot say that his party has got only 37 (seats) and his manifesto has been rejected," he told ANI.
Former prime minister and Kumaraswamy's father, HD Deve Gowda, supported his son, suggesting a white paper on the region-wise allocation of funds by different governments since 1965.
Gowda took exception to Patil's criticism over alleged neglect of northern Karnataka. "How much money was spent in Gadag by the former minister, for drinking water and other programmes for that one district?" he said, referring to Patil who is from Gadag.
Political analyst Narendar Pani said it appears as if both the parties are preparing for the Lok Sabha polls. "Both parties seem to be attempting a strange strategy of being in government and in opposition at the same time," Pani said.
Pani said there was little chance of the JD(S) and Congress tying up for the Lok Sabha polls.
"All eyes will now be on the Lingayats and which party they will support, because the Congress will project Siddaramaiah as a leader from northern Karnataka and try to woo the community again," he said. He added there seemed no way that the Congress and JD(S) rank and file would agree to a compromise in southern Karnataka.