'Counting' on polling day and 'polling' on counting day in West Bengal
Opposition parties slammed the ruling Trinamool, accusing it of "murdering" democracy and making "a mockery" of it.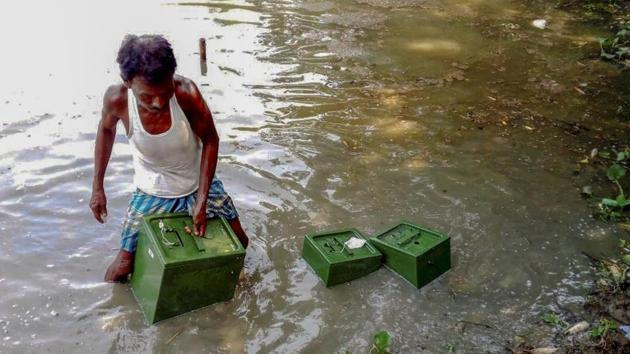 Updated on May 17, 2018 09:03 PM IST
When everyone was voting, some were counting the ballot papers, and when the officials were adding up the numbers, some were polling. This is West Bengal panchayat polls, where unprecedented things have happened over the last one month.
On election day, May 14, a booth in Rejinagar Primary School in Murshidabad witnessed young men opening ballot boxes, scattering the vote papers on the floor and counting them, possibly to find how many had been cast in their favour.
Three days later, on counting day, Thursday, goons were stamping the ballot papers at a counting centre at Sudhiranjan Lahiri College in Majdia of Nadia district.
TV channels aired footage of a young man — later identified as Subhadeep Sarkar, general secretary of the student's union of the college and who supposedly has the backing of ruling Trinamool — bending over a table and stamping the ballot papers.
A CPI(M) agent rued that police "did not object" to the goons who came in and started stamping the ballot papers when the Left party was leading by about 220 votes.
In Murshidabad, repoll was ordered in the booth and in Majdia, counting was stopped at the centre.
Opposition parties slammed the ruling Trinamool, accusing it of "murdering" democracy and making "a mockery" of it.
"This is a virtual murder or democracy. In probability on attempt on the counting day was an attempt to make ballots cast in favour of the opposition invalid by stamping them again," said Congress MLA from Berhampore in Murshidabad district, Manoj Chakraborty.
Left Parties in Bengal assembly, Sujan Chakraborty alleged "The mockery of the election is a direct result of the chief minister's instructions to her followers to ensure an opposition less panchayat structure."
BJP state president in Bengal, Dilip Ghosh described both the incidents "as an indication of the desperation when the ruling party understands that the people are not with them."
During polling, unprecedented scenes of violence and booth capturing were witnessed in the state. Ballot papers and ballot boxes were set on fire on the roads. Goons stormed booths forced open ballot boxes with crow bars, poured water in ballot boxes in some booths.
Close Story