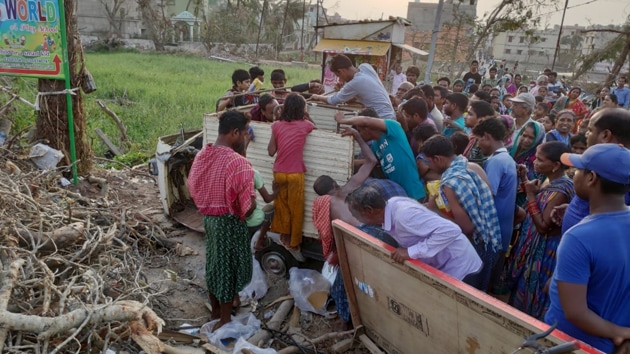 Cyclone Fani survivors block road in Odisha to protest lack of electricity
More than a week after cyclone Fani battered the Odisha coast lakhs of survivors continue to live in squalid conditions without power supply and food.
Hindustan Times, Bhubaneswar | By Debabrata Mohanty
PUBLISHED ON MAY 11, 2019 02:33 PM IST
Anger over lack of power in the cyclone hit areas of Odisha boiled over on Saturday as hundreds of people in Chopada grampanchayat of Jagatsinghpur district blocked the Cuttack-Paradip road in the morning demanding resumption of power supply.
More than a week after cyclone Fani battered the Odisha coast lakhs of survivors continue to live in squalid conditions without power supply and food.
Despite a massive effort mounted by the state government to restore power supply to 3.5 million people, more than half of them still live in darkness in the middle of a heat wave.
The cyclone has extensively damaged the power infrastructure in Puri, Khurda, Jagatsinghpur and Jajpur districts with 5030 kms of 33 KV lines, 38613 kms of 11 KV lines and 79485 km of LT lines destroyed.
Besides, 5 towers of 400 KV capacity, 27 towers of 220 KV capacity, 21 towers of 130 KV capacity and
64304 distribution transformers have been damaged in the cyclone. Four grids of 220 kv capacity that evacuate or distribute power in and around Bhubaneswar and 4 grids of 132 KV capacity at Puri, Nimapada, Mancheswar and Ransinghpur have been damaged.
Also read: Cyclone Fani aftermath: Drinking water shortage, high prices cripple life
"The damage to power infrastructure has been so much that it normal times in would have taken months together to bring back power. But we are working on war footing with 7000 power technicians from neighbouring States. Till last evening we have managed to restore power to half of the consumers of Bhubaneswar. Instead of resorting to disruption, people should cooperate," said state energy secretary Hemant Sharma.
Those who have got power complained that the system was tripping and the there were fluctuations in the voltage. "Power-supply was restored to our house in BJB Nagar in Bhubaneswar. It was possible to fill the overhead tanks. The euphoria, however was short-lived as the supply tripped," said Prasanna Mishra.
Also read: Cyclone Fani: Odisha stares at ecological crisis
But others like Girija Mishra of Nayapalli said, he is yet to get power though government claimed to have restored power in his area. "Last few days have been terrible for my family. The summer vacation of my daughter started with a heat wave and then the cyclone hit us. My wife and I are somehow managing to bear the summer. But for my 12-year-old daughter and my ageing mother the last 7 days have been horrible. We never had it so bad even in 1999 supercyclone," said Mishra, a resident of Nayapalli area. In Puri, the officials managed to light up a section of the Grand Road leading to the temple.
In Puri's Gop and Kanas blocks people continued to wait for food relief amid reports that Dalits were being discriminated in relief distribution. Debabrata Patra of Action Aid, who had visited Kanas block on Friday, said the 100-odd Dalit families in Kanas were not given any relief as upper caste people drove them away.
"The Dalit families had moved to cyclone shelters, but they were made to sit in one corner of the shelter and had food separately. Now they are being discriminated while food and polythene sheets are being distributed," said Patra.
In Brahmagiri, widow Sanghamitra Sahu said she has been managing with the water from the village pond where the leaves and branches of uprooted trees are floating. "One can somehow live without power, but not without drinking water. I had managed to get some dry relief yesterday. But I need water," she said. Similarly, several people in Gop block complained that the drinking water tankers are yet to turn up at their village. "The water tankers came, but they were almost 5 km away from our village. Many villagers could not go to get water in such blistering heat," said a villager.
Also read: Cyclone Fani-hit Puri to get power only after a month
The relief distribution process has also been hit by bureaucratic tardiness. While rice and other relief materials are being distributed in offices of Block Development Officers, polythene and financial aid are provided in Tehsildar offices.
Most of the villagers complained that they are yet to get polythene sheets to cover their open roofs blown away the cyclone while others said they were being turned away from receiving the relief of 50 kg of rice as they did not have NFSA card with them. "For last 3 days I have been running to get 50 kg of rice, but I am being turned away as I don't have NFSA card. The roof of my house was blown away and several important documents were lost. I showed my Aadhar card and tried to reason with the officials. But no one would listen," Bansidhar Nayak, a resident of Dhoba sahi in Puri town.
As per official reports, Puri requires 60,000 rolls of polythene sheets but only 25,000 rolls have been received by administration so far. Similarly, out of the 56,000 new electricity poles that need to be installed in Puri for restoration of power, only 20,000 have reached. Officials said power supply resumption in Puri may take at least a month.
In Bhubaneswar and Puri, the demand for diesel generators continued to remain high in the city with people forced to hire them for few hours to charge their mobiles or fill up overhead water tanks. In Puri there seems to be clear scarcity of diesel gensets and fuel as a handful of the petrol pumps kept operating. In several areas of Puri town, people sold petrol at Rs 100-120 a litre. With vegetables, fish and chicken in short supply, their prices have doubled in Bhubaneswar.
Garbage has become a headache for Puri and Bhubaneswar with the two cities littered with fallen trees, bent electric poles and bricks from collapsed walls. Though workers of both Bhubaneswar Municipal Corporation and Puri Municipality tried clearing the garbage and debris, the lack of space in the existing dumping yard seems to be posing a problem.
In Bhubaneswar, prices of essential commodities continued to rise with vegetable prices doubling in the city's main markets while eatables like flattened rice seems to have vanished from stores. "The prices of cucumber is now Rs 80 a kg while okra sells at Rs 90 a kg. It is difficult to buy even half a kg of vegetables," said housewife Minati Sahu.
The state government has said government officials in the affected districts including Puri and Khurda have to report for duty on Saturday and Sunday.
Special relief commissioner Bishnupada Sethi said a central team will visit Odisha carry out a preliminary assessment of the damages to the State due to cyclone Fani. As per the preliminary assessment, around 5.08 lakh houses were damaged in over 16,000 villages and 52 urban local bodies in the State while 5.4 million livestock were killed in the cyclone. More than 1 lakh hectares of agricultural lands have been affected by the cyclone.
Close