Cyclone Gaja set to hit Tamil Nadu, Puducherry; school, colleges shut
Hindustan Times, New Delhi |
M Manikandan
Nov 15, 2018 11:48 AM IST
Cyclone Gaja centred over Bay of Bengal is likely to intensify into a severe cyclonic storm and cross Tamil Nadu coast between Pamban and Cuddalore on Thursday night.
Cyclone Gaja is expected to make a landfall between Cuddalore and Pamban on Thursday night bringing heavy rainfall to Tamil Nadu and Puducherry, the weather department said, prompting authorities to shut schools and colleges in the area.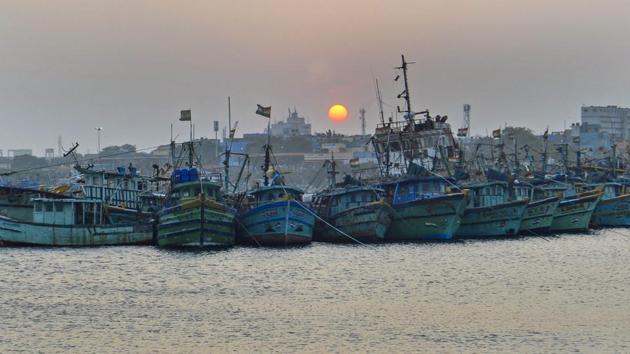 "The Cyclonic storm 'GAJA' over Southwest Bay of Bengal moved further west-southwestwards with a speed of 10 kmph during past 06 hours and lay centred at 2330 hrs IST of 14th November, 2018 over Southwest Bay of Bengal near latitude 12.0°N and longitude 83.8°E, about 410 km east-southeast of Chennai (Tamil Nadu) and 450 km east-northeast of Nagapattinam (Tamil Nadu)," the India Meteorological Department said in its latest bulletin.
"It is very likely to move west-southwestwards and intensify further into a Severe Cyclonic Storm during next 12 hours. While moving west-southwestwards thereafter, it is likely to weaken and cross Tamil Nadu coast between Pamban and Cuddalore, around Nagapattinam during 15th November evening as a Cyclonic Storm with a wind speed of 80-90 kmph gusting to 100 kmph," it added.
Live updates: 87,000 evacuated in Nagapattinam
As a result, Karaikal in Puducherry and the coastal districts of Cuddalore, Nagapattinam, Thanjavur, Tiruvarur, Pudukkottai, Ramanathapuram and Tuticorin in Tamil Nadu would receive heavy to very heavy rainfall on Thursday.
Chennai would be spared from the onslaught of the cyclone though it would bring isolated rainfall. Sporadic rainfall was reported in Chennai and the vulnerable districts in the central Tamil Nadu remained cloudy on Thursday.
The district collectors of Thanjavur, Thiruvarur, Pudukottai, Nagapattinam, Ramanathapuram and Cuddalore have declared a holiday for schools and colleges on Thursday. All educational institutions in Puducherry and Karaikal regions would also remain closed. All university examinations have also been deferred, officials said.
Indian Railways has cancelled all the train services in the districts, which will be affected by Cyclone Gaja.
The IMD's bulletin also warned that the gale winds and rain could damage huts, rooftops and power and communication lines besides uprooting trees and causing havoc to paddy fields and other crops as well as orchards. Officials of the state agriculture department have urged farmers to insure their crops immediately.
'We are ready'
State revenue minister RB Udhayakumar has said the state government has taken all precautionary measures to face Cyclone Gaja.
"Eight National Disaster Response Force (NDRF) teams and seven squads of the state disaster response force have been dispatched to Nagapattinam, Cuddalore, Thanjavur, Pudukkottai, Ramanathapuram and Tuticorin districts," Udhayakumar said while speaking to reporters on Wednesday.
"Besides setting up a 24-hour control room in Chennai, we have directed the district collectors to form rescue teams. Cyclone management committees have been formed in all the 2,559 vulnerable places. 410 zonal teams are also in place. Further, 22,495 people are ready to engage in rescue works," he said.
In addition, 368 mobile medical teams, 315 veterinary medical teams, motor pumps, swimmers, snake catchers are also ready to render timely assistance.
The Union water resources department has advised the state government to monitor all the dams to prevent any calamity in view of the prediction of a heavy rainfall.
The Central Water Commission has advised action as per the Standard Operating Procedure as heavy rainfall in catchment areas could fill up the dams fast in less than 24 hours.
Udhayakumar said mobile operators have assured to move 'Cell on Wheels,' mobile platforms to provide uninterrupted mobile connectivity to Nagapattinam and Cuddalore districts which are likely to witness the cyclone impact during landfall.
The government has also held discussions with oil marketing companies and they have been advised to maintain sufficient fuel stock, he said.
While reiterating caution to fishermen to not venture into the sea, Udhayakumar said a comprehensive list of do's and don'ts have been circulated to the people on cyclone eve.
The Indian Navy has been put on high alert in view of Cyclone Gaja approaching the coast of south Tamil Nadu and Puducherry, officials said.
Navy officials said the Eastern Naval Command (ENC) has assumed a high degree of readiness to render necessary humanitarian assistance as the cyclone is poised to cross the coast of the two states on Thursday evening.
"Two Indian Naval ships, Ranvir and Khanjar, are standing by to proceed to the most affected areas to undertake humanitarian aid and distress relief," a navy official said, according to news agency PTI.
He said these ships will have additional divers, doctors, inflatable rubber boats, integral helicopters and relief material on board. The official said helicopters, Dornier aircraft and one P8I aircraft are on standby to undertake reconnaissance, rescue and casualty evacuation.
(With agency inputs)