Data leak serious matter but Scorpene programme on track: MDL chairman
Documents detailing the secret combat capabilities of Scorpene-class submarines that French shipbuilder DCNS has designed for the Indian Navy have been leake, according to an Australian media report.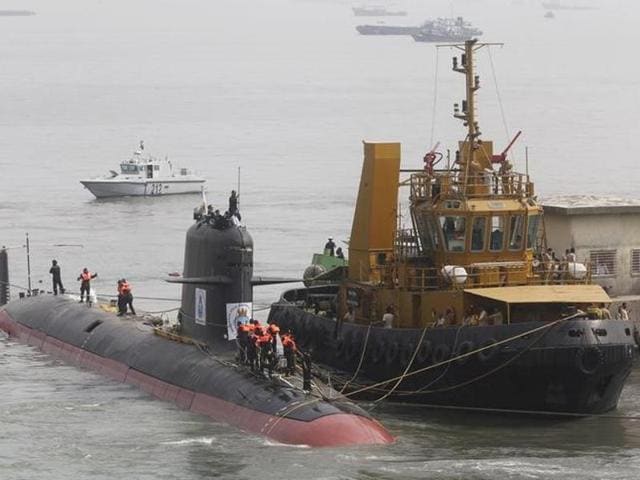 Updated on Aug 24, 2016 02:55 PM IST
The chairman of Mazagon Dock Limited, where the Scorpene submarines are being built, has said the Indian programme was well on track and the authenticity of the leaked data needed to be verified.
Speaking to HT from Mumbai on Wednesday, rear admiral Rahul Shrawat said there was no indication that the breach happened at the public sector yard.
"We need to quickly find out if the leaked documents are authentic. If that's the case, it's a serious matter and responsibility needs to be fixed but it could be dummy data too," said Shrawat in his first reaction to the massive leak reported by The Australian newspaper on Tuesday.
French shipbuilder DCNS has provided technology for the Rs 23,562-crore project.
The yard, as planned, would deliver the first of the six submarines to the Indian Navy in early 2017, he said. The remaining are likely to be delivered by 2020.
Documents running into 22,400 pages reportedly detail the combat capabilities of French-designed Scorpene-class submarines.
Read | Scorpene submarine data leak: Indian and French authorities order probe
Shrawat said the alleged leak underlined the need to tighten data security. "We have stringent guidelines but there's a need to revisit some of those issues," he said.
Defence minister Manohar Parrikar, who said he learnt of the leak at midnight, described it as a "case of hacking". The minister has asked the navy chief for a report on the "extent of the leak".
In April 2016, the French shipbuilder beat off competition from German and Japanese rivals to bag a $40-billion contract to build 12 submarines for Australia.
"The Australian audience appears to be the target of the leak as France won a very lucrative tender there," Shrawat said.
The alleged leak comes at a time when DCNS is eyeing a Rs 64,000-crore order for six next-generation submarines in India.
Shrawat said it was for the French firm to find out what happened, where and at what level.
"The real picture will emerge after the data is studied...and if required the navy and MDL can work jointly on some of those aspects," he said.
Close Story