Doctors shocked at Mandsaur gang rape victim's injuries, say she is 'too traumatised to talk'
Jun 30, 2018 08:14 AM IST
Doctors said the eight-year-old was brutalised by the accused in a manner that reflected the gang-rape of a nursing student in Delhi nearly six years ago.
The brutal rape of an eight-year-old girl in Mandsaur earlier this week has come as a painful reminder of the infamous 2012 Delhi gang rape case, where a nursing student was sexually assaulted by six people on a private bus before being abandoned on the roadside.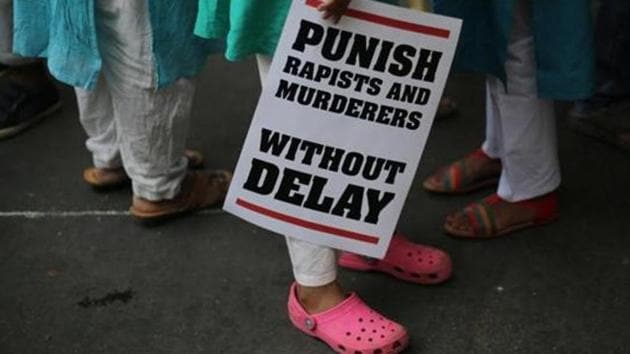 Police said Irfan Khan, a 20-year-old labourer at a local market, allegedly kidnapped the minor while she was waiting for her father after school on Tuesday. He then took her to a secluded place, where he raped her before slitting her throat with a sharp weapon.
Doctors at the MY Hospital in Indore, where she is currently being treated, found that an object – possibly a rod or a wooden stick – had been inserted into her in a manner brutal enough to draw out her entrails. It took two surgeries extending over three hours to undo the damage, they said.
The victim in the Delhi gang rape case had also been brutalised in a similar way.
Paediatric surgeon Dr Brijesh Lahoti said the girl in Mandsaur was still in a critical condition, despite recovering slowly. "She is too traumatised even to talk," another doctor said.
Based on the medical examination of the girl and the doctor's statement, police booked Khan for kidnapping and rape under relevant sections of the Indian Penal Code as well as the Protection of Children from Sexual Offences Act. Mandsaur superintendent of police Manoj Singh said the accused was nabbed within 24 hours of the crime on the basis of CCTV footage that showed him taking the girl with him after school hours.
Even as Mandsaur residents called for a bandh on Thursday to register their protest against the rape, local Anjuman Islam head Yunus Sheikh declared that Khan would not be accorded any burial space after his death. He backed the parents' demand that the accused be given the death penalty. The Mandsaur Advocates' Association has also decided against providing legal representation to the accused.
On Friday, a total bandh was observed in neighbouring Neemuch district. Thousands of people took out a march and submitted a memorandum to the district administration, demanding that the accused be hanged for the crime.
Keeping the public outrage in view, police decided against taking Khan to court on Thursday. "Instead, a judicial magistrate held legal proceedings at the station and remanded him in five days' police custody," said Manoj Singh.