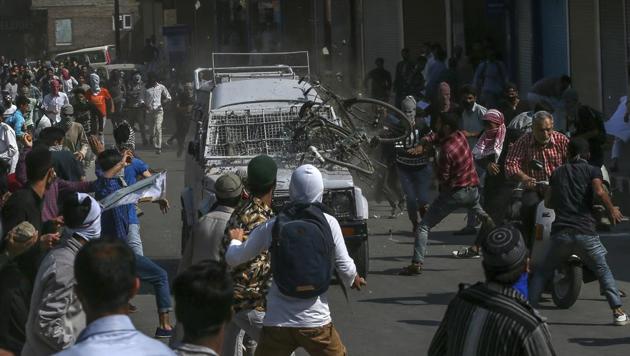 1 dies after jeep runs over 2 during Srinagar protests, CRPF says driver was trying to avoid being lynched
CRPF spokesperson Sanjay Sharma said while the driver tried to get out of the situation, somebody "might have come under the vehicle".
Hindustan Times, Srinagar | By Mir Ehsan
, Srinagar
UPDATED ON JUN 02, 2018 12:01 PM IST
One youth was killed and another was injured after being driven over by a CRPF vehicle which came under attack from a group of stone-pelters near Jamia Masjid in Srinagar on Friday.
Yonis Ahmad and Kaiser Ahmad were hit by the CRPF vehicle and were admitted to the hospital where doctors declared their condition as serious. Kaiser, who was said to be "very critical" and "on life support", passed away around midnight.
After Friday prayers at the mosque, scores of protesters shouting anti-India slogans clashed with police. They surrounded a CRPF vehicle and pelted stones at it.
CRPF PRO Sanjay Sharma said the vehicle was carrying second-in-command of 28 Battalion, SS Yadav.
"They (protesters) came very close, some of them even climbed on the vehicle. The protesters were trying to lynch people inside the vehicle and the driver was trying to get out of the situation," he said.
Sharma said that while trying to get out of the situation, somebody "might have come under the vehicle".
Images and a video of the incident have gone viral on social media.
Former state chief minister Omar Abdullah took to Twitter to condemn the incident.
"Earlier they tied people to the fronts of jeeps & paraded them around villages to deter protestors. Now they just drive their jeeps right over protestors. Is this your new SOP @MehboobaMufti sahiba? Ceasefire means no guns, so use jeeps?" he tweeted along with a picture of youth crushed under CRPF vehicle.
CRPF PRO Sharma said their personnel "didn't fire a single bullet or a pellet despite the grave situation".
Last week, after Friday prayers, the police used pellets to quell protesters. Some tear gas shells landed inside the mosque. More than 20 people were injured in the incident.
Later, the Auquaf Committee and Traders Federation of Jamia reached an agreement with the police that there will be no security deployment in the mosque and volunteers will look after the security and discourage stone pelting after prayers.
However, despite the agreement, protests took place outside the Jamia Masjid and its neighbouring areas after prayers on Friday.
Close