For good ties with India, Pakistan must become secular, act against terror: Army chief
Hindustan Times, Pune |
Nadeem Inamdar
Nov 30, 2018 07:28 PM IST
The army chief reiterated India's stand that talks and terror can't go together and the neighbouring country must take action on the ground against terror groups if it wanted peace with India.
Pakistan should become a secular state instead of remaining an Islamic state if it wants peaceful relations with India, army chief, General Bipin Rawat, said on Friday. It also must take effective action on the ground against terror if it is serious about peace, he said.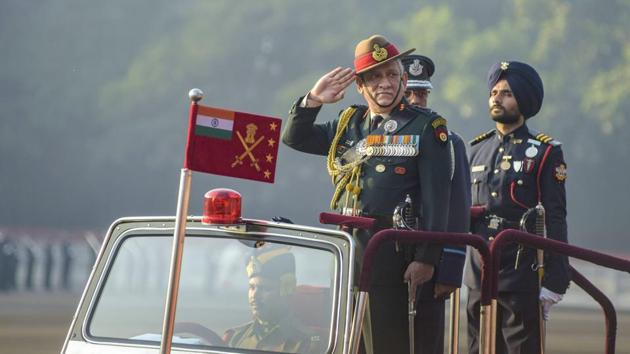 "If they (Pakistan) have to stay together with India, then they have to develop as a secular state. We are a secular state. If they're willing to become secular like us, then they seem to have an opportunity for engagement," he while speaking to journalists on the sidelines of the passing out parade (POP) of the 135th course at the National Defence Academy (NDA), Khadakwasla.
Asked about Pakistan Prime Minister Imran Khan's statement that Pakistan will respond with two steps for every step that India takes for peace, the army chief said, "There is contradiction in what they are saying. One step from there should come in a positive manner, we will see if the step has effect on the ground. Till then, our nation has a clear policy - terror and talks can't go together."
Gen Rawat also highlighted the increasing role of women in the Army but said it was still not the time for them to get into a combat role
Stating that several areas have been identified for expanding women's role in the Army, he said, "You will see an increase in the role of women in the armed forces. We haven't yet taken them in front-line combat role. We feel we aren't yet ready."
"Western nations are more open. Boys and girls are operating together in big cities here, but people in the Army don't only come from big cities. Majority of them are from rural areas where mingling between men and women is still not very open. We are exploring how women can be given a permanent commission," he said.
Gen Rawat also said that permanency is needed in some fields and male officers in a command-oriented army don't fit everywhere. "Keeping women officers in fields like language interpreters, military diplomacy, information, cyber and psychological warfare will be beneficial. They are already present in the army's education and law departments," he said.
When asked about reports that defence cantonments may be merged with the local civic bodies, the Army chief said such possibilities were being explored but only for civil areas of the cantonments.
"We want to increase military stations. Cantonments are a British legacy. There are 237 military stations and 62 cantonments. We are exploring the possibilities whether civil areas of the cantonments can be merged with local civic bodies for better services to people and remaining areas can be converted into military stations," he said.
On Friday, a total of 261 cadets graduated from the NDA as they passed through the portals of the prestigious Khetrapal Parade Ground. The 186 cadets from the army, 21 from the navy and 54 from the air force also included 16 cadets from friendly foreign countries such as Afghanistan, Bhutan, Kyrgyzstan, Lesotho, Tanzania, Tajikistan, Mauritius, Vietnam and Sri Lanka.
The army chief reviewed the passing out parade and complimented the cadets, making a special mention of the award winners.
Academy Cadet Captain Jaipreet Singh won the President's Gold Medal for standing first in the overall order of merit, Academy Cadet Adjutant Parimal Parasar won the Silver Medal and Squadron Cadet Captain Swapnil Gupta won the Bronze Medal. 'Charlie' Squadron bagged the prestigious 'Chiefs of Staff Banner', for being the Champion Squadron.