Gauri Lankesh murder: Sketches of two suspects released, no right-wing links yet
Gauri Lankesh, known to be an anti-establishment voice with strident anti-right wing views, was shot dead by unknown assailants at her home in Bengaluru on the night of September 5.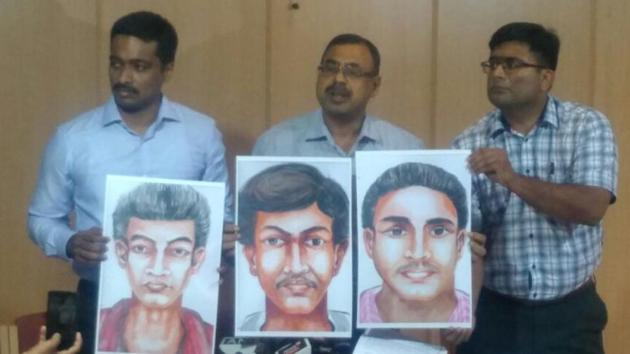 Updated on Oct 14, 2017 07:02 PM IST
Police released on Saturday the first videos and sketches of the possible suspects in the murder of senior journalist Gauri Lankesh, who was killed outside her house early last month.
Karnataka's police director general of police (intelligence) BK Singh, who heads a special team investigating the murder, said a set of three sketches were drawn up for two suspects based on inputs from people who reported seeing the men.
"We have identified two main suspects with technical inputs and information from local sources... The suspects had been spotted in the area," Singh said during a press conference.
The official said the motive, identity or affiliations of the killers are yet to be determined. "Can't ascertain religion of suspects by external appearances like tilak or earrings as it could be done to mislead", he said.
Lankesh was shot dead point blank outside her home on the outskirts of Bengaluru on September 6, triggering protests in many parts of the country by journalists and activists who said that she was targeted for her work against right-wing Hindu extremism. Police have struggled to find leads in the case, similar to the murders of several other activists who challenged extremist ideologies.
The attackers are believed to have stayed in Bengaluru for at least a week before the killing, Singh said."We want to request the public to give us any information about where these suspects stayed for that week," Singh said, adding that allegations that organisations such as Sanatan Sansthan may have been involved were yet to be backed by their findings.
There is so far no link between the murders of Lankesh and other prominent rationalists such as Narendra Dabholkar, Govind Pansare and MM Kalburgi, Singh said. "We have not yet received the bullets from other investigative agencies to compare them with those fired at Lankesh," he added.
"So far, we have ruled out any connection of the murder with her professional life, but all other angles have not yet been ruled out. She was also an activist apart from being a journalist," Singh said.
Another officer attached to the SIT told HT that special technology had been used for the first time in India to help identify the suspects. The officer said CCTV footage found from outside Lankesh's house showed one of the gunmen briefly opening his helmet's visor.
"We used a technology called training. Using a part of the face that was revealed in the footage, it was a side angle shot, we added general characteristics of Indian face types to come up with the sketches," the officer said.
Close Story