Goa chief minister Manohar Parrikar dies at 63
Manohar Parrikar, who was an Indian Institute of Technology graduate, made a mark as chief minister of Goa when the politics in the state was hit by defections and unstable governments.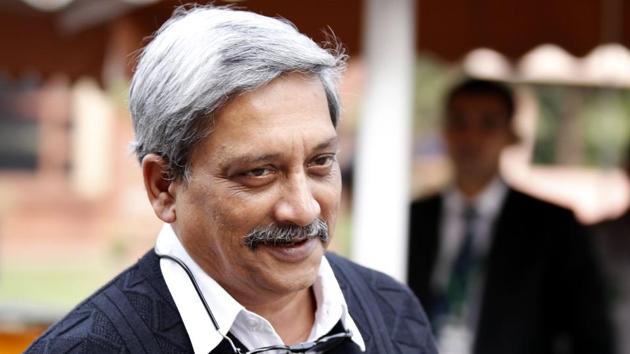 Updated on Mar 18, 2019 12:48 AM IST
Hindustan Times, Panaji |
Gerard de Souza
Goa chief minister Manohar Parrikar died at his residence in Panaji on Sunday, prompting the Centre to announce a national mourning even as tributes flowed in from across the political spectrum for the 63-year-old former defence minister who was widely considered the tallest Bharatiya Janata Party (BJP) leader from the state.
Parrikar was diagnosed with advanced pancreatic cancer in February last year and was repeatedly admitted to hospitals in Goa, Mumbai, New Delhi and New York. His mortal remains will be cremated in Panaji on Monday evening after they are kept at the BJP's state headquarters for political leaders and the public to pay their finals respects, according to an official statement.
Shortly after the Goa CM's Twitter handle announced on Sunday evening that he was "extremely critical" and that doctors were trying to improve his condition, President Ram Nath Kovind announced that the senior BJP leader had passed away.
"Extremely sorry to hear of the passing of Shri Manohar Parrikar, Chief Minister of Goa, after an illness borne with fortitude and dignity. An epitome of integrity and dedication in public life, his service to the people of Goa and of India will not be forgotten #PresidentKovind," President Kovind tweeted a little before 8pm.
Read more| 'Human mind can overcome any disease,' Parrikar had said a month ago
After the President's tweet, Prime Minister Narendra Modi and Congress president Rahul Gandhi led a chorus of tributes to Parrikar, calling him an "affable leader" and "admired" leader.
"My condolences to his family in this time of grief.Shri Manohar Parrikar was the builder of modern Goa. Thanks to his affable personality and accessible nature, he remained the preferred leader of the state for years. His pro-people policies ensured Goa scales remarkable heights of progress," the Prime Minister tweeted.
Gandhi said he was "deeply saddened by the news of the passing of Goa CM… who bravely battled a debilitating illness for over a year." "Respected and admired across party lines, he was one of Goa's favourite sons," the Congress president added.
Parrikar is survived by two sons – Utpal and Abhijeet. He lost his wife to cancer in 2001.
Goa appeared headed for political turmoil after Parrikar's death, with the BJP's strength in the state assembly going down to 12 MLAs. The Congress staked its claim to the government in Goa a day earlier on Saturday, as reports of Parrikar's deteriorating health prompted the BJP to go into an emergency huddle to consider alternatives.
Read more| Parrikar a quintessential swayamsevak, was once reluctant to join politics
The Congress said on Saturday that the BJP's strength had diminished to 13 following the death of its legislator Francis D 'Souza last month. After Parrikar's death on Sunday, the BJP's strength in assembly stood at 12.
The Congress has 14 MLAs in the assembly that has a current effective strength of 37. Since the state elections in 2017, three Congress legislators have resigned and joined the BJP. One of them was re-elected on a BJP ticket and bypolls for other two seats are still to be held.
Parrikar, who was an Indian Institute of Technology graduate, made a mark as chief minister of Goa when the politics in the state was hit by defections and unstable governments. He became the Goa CM for the first time in October 2000 after a split in the ruling Congress. Parrikar projected himself as a leader who reached out to people across religious boundaries, attempting to woo the state's 26% Catholic community.
He was appointed the country's defence minister between November 2014 and February 2017. However, Parrikar returned to Goa politics after the BJP failed to win a majority in the state assembly in 2017. In the 40-member assembly, the Congress emerged as the largest party with 17 MLAs and the BJP stood second with 13.
However, regional parties Maharashtrawadi Gomantak Party (MGP) and Goa Forward Party (GFP) – both with three MLAs each – and three independent legislators decided to support the BJP on the condition that Parrikar would head the coalition government.
In February 2018, the Goa CM was diagnosed with pancreatic cancer and was treated at hospitals in India and the United States. Despite his failing health, Parrikar continued to head the fragile coalition government as there was no consensus on a leader for the post of the CM.
Read more| 'Man who built modern Goa': PM condoles Parrikar's demise
After the Goa CM's death was announced on Sunday, BJP MLAs in the state held a meeting along with party leaders from Delhi at a Goa hotel, a person with knowledge of the developments said on condition of anonymity. The agenda of the deliberations, however, was not immediately known.
There was no response from alliance partners MGP and GFP till the time of going to press.
The Union home ministry has announced national mourning on Monday and a state funeral will be accorded to Parrikar. Top BJP leaders from across the country including PM Modi and BJP president Amit Shah are expected to be present for the last rites.
Close Story