Gujarat elections: Congress chooses to bank on 'silent' drive with focus on key candidates
Updated on Nov 28, 2022 05:18 AM IST
Compared to the BJP and AAP, the low-key campaign of Congress in Gujarat, especially in Saurashtra where it won 28 seats out of 48 in 2017, may throw up some surprises. The BJP won 19, while one went to the Nationalist Congress Party.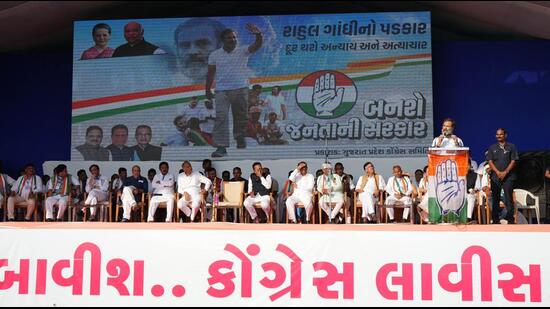 In contrast to high- decibel electioneering by the Aam Aadmi Party and Bharatiya Janata Party, the Congress has adopted a low-key grassroots approach to the Gujarat assembly elections that might yet spring a surprise in some parts of the state, particularly Saurashtra, although the party is strapped for funds.
It seeks to consolidate the gains made in the 2017 elections, when it put up its best performance in decades, winning 77 seats to BJP's 99.
Dalit leader Jignesh Mevani, the Congress candidate from Vadgam seat that he won in 2017 as an independent, has started an online crowd funding campaign using the 'Our Democracy' platform.
Also Read | 'Congress was soft on terror': PM in Gujarat poll salvo
Mevani, who is working president for Gujarat Congress, aims to raise ₹40 lakh for election campaigning through the crowd funding. He has so far raised a little over ₹9.5 lakh.
"I am running a donation campaign to fund my election. I am reaching out for your help. I request you to donate whatever you can so that I fight this election with full force against the anti-poor regime of the BJP," Mevani was quoted as saying on the crowd funding platform.
He is in for a tough fight as the Bharatiya Janata Party has fielded former Congress MLA Manilal Vaghela, who quit the party in 2021. Vaghela had won the 2012 state election on Congress's ticket from Vadgam. In the 2017 assembly elections, Congress decided to support Mevani, who won by defeating the rival BJP leader, Vijaykumar Chakravarti, by a margin of about 20,000 votes. The seat is reserved for Scheduled Caste candidates.
Compared to the BJP and AAP, the low-key campaign of Congress in Gujarat, especially in Saurashtra where it won 28 seats out of 48 in 2017, may throw up some surprises. The BJP won 19, while one went to the Nationalist Congress Party.
Of the total 98 rural seats out of 182 in Gujarat, the Congress won 57 in 2017, and the BJP won 36. The rest went to other parties.
The Congress is relying on the popularity of its heavyweight candidates like Punjabhai Vansh (Una), a seven-time MLA, Indranil Rajyaguru (Rajkot East), the richest candidate in the first phase of the election to be held in 89 seats on December 1, Paresh Dhanani (Amreli), who won the sobriquet of a giant killer after he defeated BJP Union minister Purshottam Rupala in 2002 from Amreli, and Arjun Modhwadia (Porbander), former state unit president, among others.
Also Read | In viral video, Congress leader says 'Allahu Akbar' in Gujarat; clarifies later
Rajyaguru, who lost against former Gujarat chief minister Vijay Rupani in 2017 from Rajkot north, was among the top contenders for the AAP's chief ministerial candidate. After the party projected Isudan Gadhvi as its chief ministerial candidate, Rajyaguru returned to the Congress. He, like others, is seen doing doorstep campaigning, moving with a few vehicles and a crowd of followers.
"This is a new strategy. In every election, parties look for new ways and this time we have taken the direct grassroots approach," Congress national spokesperson Shaktisinh Gohil said. "We feel our strategy is working. If it weren't, why would the Prime Minister visit Gujarat so frequently for the last few months, making election speeches and holding rallies?"
Laxman Manek of Parodiya village in Khambhalia constituency said Congress leaders have been visiting his village regularly for the past few months, holding meetings. While he hasn't attended any of the meetings, the party does have a stronghold in the region, he said.
Not everyone is impressed by the new strategy.
Dr Mahendra Joshi, 66, a resident of Jamnagar, said there was a lack of leadership in the Congress and it showed in their campaigning. "People can't trust Congress, whose MLAs keep switching sides and join the BJP," he said. As many as 17 Congress MLAs have crossed over to the BJP after winning the December 2017 elections.
Asked about lack of funds, Gohil said that unlike the BJP, they have limited resources. "We don't have excess money like them," he said.
The Congress' silent campaign strategy even found a mention in one of the PM's speeches. On October 10, Modi, at a rally in Anand district, warned BJP workers against the Congress's "silent" campaigning in Gujarat, and said the ruling BJP will have to modify its poll strategy to counter it.
AAP chief Arvind Kejriwal has in a number of speeches in Gujarat accused Congress of being inactive and having given up on the election.
In 2017, Congress leader Rahul Gandhi had led the campaign in Gujarat, weaving a rainbow coalition of caste leaders Hardik Patel of the Patidar community, Alpesh Thakor representing the Other Backward Class, and Mevani of the Dalit community.
This time, Gandhi has visited Gujarat less than five times in the past seven months. In comparison, AAP leaders like Arvind Kejriwal, Bhagwant Mann and BJP leaders Modi and Union home minister Amit Shah have visited more than 15 times in this period.
Gohil said, according to Gandhi, the Bharat Jodo Yatra was more important than gaining power in a state.
In Jamnagar north constituency, where Congress' Bipendrasinh Jadeja is contesting against AAP's Karsan Karmur and BJP's Rivaba Jadeja, the party office was shut when HT visited it on Monday.
A Congress candidate from Rajkot said the party is pressed for funds and the leadership has left the elections in the hands of candidates.
"The party has announced its list of star campaigners. We will call them if required. But so far, I haven't felt the need," according to the candidate who spoke on condition of anonymity.
Congress leader Modhwadia told HT that there is a change in strategy, where instead of holding large gatherings, the party is focusing on small meetings. The downscaling of their campaign strategy is a well thought out move, he said, adding that the party does not have resources like the BJP.
"We are working at the ground level, using local leaders and booth committee members to their maximum potential. Ultimately, they are the one who will get us votes. We are addressing smaller meetings of about 5,000 people but we are doing it continuously for a long time now," said Modhwadia.
Seven-time MLA Vansh said there is lot of unrest against the BJP, and they are trying to woo voters by having a direct dialogue with them. "Whether it will work or not, only time can tell," he said.
Most of these rural seats have at least 15% of the voters belonging to Dalit and Muslim communities, and they have been a strong vote bank for the Congress, said another leader from Saurashtra.
"With the AAP in the picture, there is going to be a three-way contest in some seats and if Congress manages to further solidify its core vote bank, the party can get an edge in this three-way contest. You can reach out to these voters through social media or through other channels but the direct outreach approach is the best suited in given circumstances," said a senior Congress leader from Saurashtra, who did not wish to be named.
A BJP leader said the Congress strategy may be working in some parts, but they were not really worried about it. "While the Congress is contesting this election with focus on 125 seats, BJP's focus remains on all 182 seats," he said.