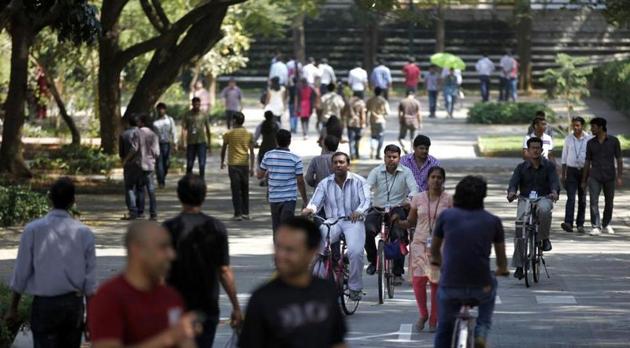 H-1B visa: How Donald Trump's 'hire American' order may affect Indians
US President Donal Trump signed an executive order to tighten the rules of the H-1B visa programme, the most sought-after by Indian IT firms.
UPDATED ON JUL 19, 2017 03:41 PM IST
US President Donald Trump on Tuesday signed an executive order for tightening the rules of the H-1B visa programme, the most sought-after by Indian IT firms and professionals, to stop "visa abuses".
The order directs the agencies to suggest changes to help ensure that the visas are awarded to the most skilled, best-paid immigrant workers.
"Right now, widespread abuse in our immigration system is allowing American workers of all backgrounds to be replaced by workers brought in from other countries to fill the same job for, sometimes, less pay. This will stop," Trump told an enthusiastic audience in Wisconsin before signing the order.
He said the order sets in motion the first steps to initiate "long-overdue" reforms to end "visa abuses".
Here's all you need to know on the visa, the changes and the affect on Indians:
What is the H-1B visa programme?
* The H-1B visa is an employment-based, non-immigrant visa category for temporary workers. An employer must offer a job and apply for your H-1B visa petition with the US Immigration Department.
* The programme is open to a broad range of occupations, including architects, professors and even fashion models.
* It is meant for jobs requiring specialty skills that cannot be filled by a US worker. Many of these jobs happen to be in tech.
* According to the US Labor Department, the top three H-1B occupations are computer systems analysts, application software developers and computer programmers — and those three account for roughly half of the department's H-1B certifications.
* The tech industry says companies have trouble filling positions with American workers and must turn to other countries through this programme.
Why does US President Donald Trump want to cut number of visas?
* Critics of the H-1B programme argue it is being used by companies to hire temporary foreign workers on low salaries to displace local American workers on higher salaries.
* They have targeted Indian IT companies such as Infosys, Tata Consultancy Services and Wipro accusing them of "gaming the system" by cornering a large portion of the annual disbursement of H-1Bs with a large number of applications.
* A White House statement on Wednesday said H-1B visas are supposed to bring the highest skilled and paid labour to the US. But according to studies, 80% of the approved applications were for the two lowest wage levels allowed.
* The Trump administration says more of the jobs performed by those people could and should be filled by Americans.
How are the visas allocated?
* The programme is capped at 85,000 new H-1B visas each year—65,000 to foreigners and 20,000 more are granted to those with advanced degrees.
* However, more than 100,000 workers are allowed in annually because of exemptions for university-related positions.
* Recipients can stay up to six years—the visa is good for three years and can be renewed for three more years
* Demand is usually higher than the cap, so the US government holds an annual lottery.
* This year, nearly 200,000 applications were received in less than a week.
Who employs H-1B visa holders?
* The biggest employers are Indian companies such as Wipro Technologies, Infosys, Tech Mahindra and Tata Consultancy Services.
* The American companies include Google, Microsoft, Apple, Facebook and Qualcomm.
* Thousands of Silicon Valley startups.
What are the changes?
* The order doesn't change existing rules, but the objective is to modify or replace the current lottery for H-1B visas with a merit-based system that will restrict the visas to highly skilled workers.
* The US secretary of state, the US attorney general, the US secretary of Labour, and the US secretary of Homeland Security will suggest the reforms.
How will Indians be affected?
* The biggest beneficiaries of H-1B visas are Indians, followed by the Chinese. In 2014, 70% of total H-1B petitions approved were from Indians.
*Nearly 86% of the H-1B visas issued for workers in computer occupations go to Indian workers, according to a Computerworld analysis of government data obtained through a Freedom of Information Act request.
* One expected change in rules is the doubling of the minimum salary of H-1B visa holders to $130,000.
* Should that happen, India's software services industry, already facing pressures on profitability and revenue, will be forced to make fundamental changes in their business strategies, including hiring more American workers at the cost of Indian employees usually deployed on client sites in the US
*Such a move can crimp operating margins by as much as three percentage points at companies such as Tata Consultancy Services Ltd, Infosys and Wipro.
(With inputs from agencies)
Close