Haryana on maximum alert as Jat quota stir begins, prohibitory orders in place
Jan 29, 2017 09:42 AM IST
After being caught on the wrong foot during a violent agitation by Jats for job reservation last year, the Haryana government has deployed maximum security for a fresh round of stir set for today. The agitation has been called by the All India Jat Arkshan Sangharsh Samiti (AIJASS).
Haryana has gone on maximum alert as a fresh round of quota agitation called by a section of Jats began on Sunday.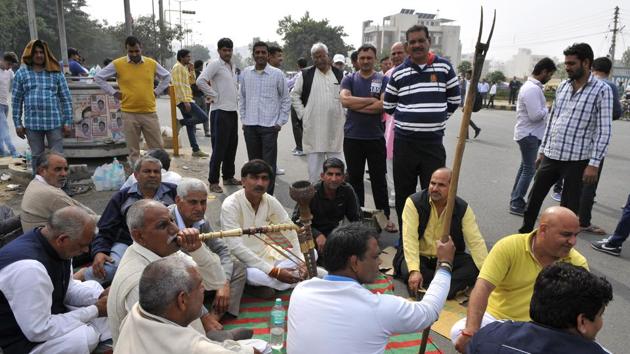 Apart from the state police and over 7,000 home guards, 37 companies of central forces have been deployed across the state around sensitive locations including National Highway 1 (popularly known as GT road), state highways, railways tracks and Munak canal that takes Yamuna river water to New Delhi. Authorities have also clamped prohibitory orders in these areas banning assembly of four or more people.
A similar agitation last year had left 30 dead and caused widespread destruction of property. Sonepat, Rohtak, Jhajjar, Hisar, Bhiwani, Kaithal, Fatehabad, Dadri and Jind saw large-scale violence, arson and rioting during the February 2016 protests.
Haryana home secretary Ram Niwas told Hindustan Times that Rapid Action Force (RAF) has been deployed across different points of Munak canal which was breached during the agitation last year.
"No one would be allowed to disrupt law and order situation or traffic movement at any cost," he said.
While several Jat fora have already distanced themselves from the stir, members of All India Jat Arkshan Sangharsh Samiti (AIJASS) decided to start dharnas across the state from Sunday. They are demanding quota for Jats in central government jobs, withdrawal of cases against all accused in last year's stir, government job for kin of those killed and action against BJP MP Raj Kumar Saini for his remarks against quota for Jats.
Chief minister Manohar Lal Khattar who met about 80 leaders of different Khaps as well as representatives of Jat fora in Chandigarh Friday evening had assured them a government job for a kin of all the 30 deceased in the Jat stir last year.
The AIJASS claims the agitation will be peaceful this time.
But authorities are taking no chances.
Mobile internet services around a 5-km radius of Rashwala Mod, where the Jat group has announced to begin its agitation from, have also been shut down.
The administration has also barred sale of alcohol in the same radius.
The police and administration in other districts are also constantly monitoring social media to check rumour mongering and provocative messages. They have held meetings with network providers, instructing them to shut internet services within 15 minutes of an order if the situation requires such action.
Also read | Caste bias, cowardice all to fore as Jat protest spun out of control