Home to rare animals, Kazinag National Park awaits visitors and recognition
Updated on Sep 02, 2018 01:09 PM IST
Spread over 160 square kilometres, the park is home to near-extinct markhor, tragapons and numerous other species of animals, birds.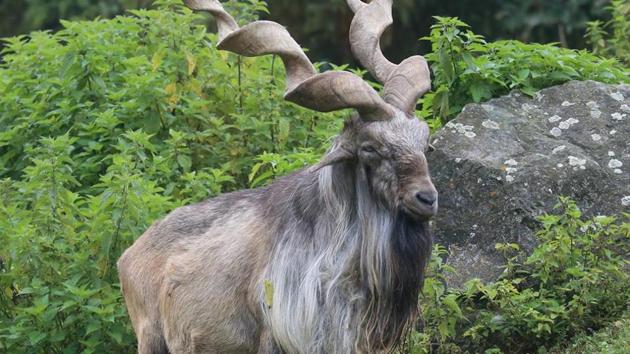 Hindustan Times, Limber (Uri) |
Mir Ehsan
Close to the Line of Control, an area encircled by dense deodar, pine and fir forests and elevated cliffs, Kazinag National Park is home to the near-extinct Markhor, a majestic mammal with corkscrew horns.
Ever since it was declared a national park, the numbers of the mammal — a wildlife species included in Schedule 1 of the Indian wildlife (Protection) Act 1972 — and other species such as musk deer, goral and tragapons have registered an upward trend.
Markhor is the national animal of Pakistan and is found on both sides of the LoC.
Kazinag National Park has the potential to become one of the biggest national parks in the country as it's spread over more than 160 sq km.
It can now become a symbol of peace even as India and Pakistani soldiers would engage in shelling till five years ago. The park came into existence after two wildlife sanctuaries —Limber and Lachipora — were clubbed with Naganari conservation reserve with the support of Wildlife Trust of India in 2007.
"After the area was handed over to us, things have really changed in this park. It is one of the finest parks comprising two sanctuaries and a conservation and is home to Markhor and about 20 species of mammals, 120 of birds and 17 of butterflies, besides numerous species of medicinal plants," Regional Wildlife warden, north Kashmir, Mohammad Sadiq, told HT.
The warden, however, said that few people in and outside Kashmir know about the park.
"This is one of the richest parks in the state and we still we have few visitors. The animal lovers can have the group sightings of the markhor, wild animals and birds here." Two surveys were conducted in the area in 2009 and 2011 by the Wildlife Trust of India and the last survey put the number of markhor between 150 -170.
Officials claim the number of the mammal has increased since. "Now, the number can be between 300 to 350," said Abdul Qayoom, block officer, Naganari Conservation Reserve.
He said the best time to watch markhor is between October to April when the animal comes down from higher altitude areas.
"This is a vast park and has everything which these animals and birds require. The only thing it needs is proper upgrade in the form of fencings, construction of tracks, firewalls inside the forests, rest houses and regular watch and ward staff."
It was in early 2000 that the J&K Wildlife department proposed Kazinag Biosphere Reserve project but WTI named the project as Kazinag National Park.
In India, markhor is found only in J&K and Kazinag habitats the mammal's largest population.
Likewise Kazinag also has the largest population of tragopans – another endangered species of birds
Project head, Wildlife Trust of India, Riyaz Ahmad, said there has been an upward trend not only of markhor but tragapons, gorals, musk deer and other birds.
"This national park is the only place in the country where markhor and tragapons are found in high numbers, so, it needs special attention. We have started making people aware about the park. Earlier, villagers used to go for community hunting of animals in winters, which has now stopped," he said.
He said in the 2011 survey, the markhor number was put between 155 to 165, and tragapons were estimated nearly 79 in the last survey done a decade ago. Sitting under the shades of pines on a road that leads towards Babagail village, Block Officer Lachipora, Mushtaq Ahmad, was busy giving instructions to the staff about the conservation. "The biggest impediment is that only 10 permanent employees are posted to look after the entire park. "We run our show with the help of daily wagers who are paid little that too after six months. After this area was declared a national park, we were to get special grants and dedicated staff, but nothing has happened."
Officials are miffed that the funds are released in March and the department fails to utilise them as the financial year ends in that month only. "This place needs proper attention and special funds for the development," said an officer. Officials claim that department has so far constructed two rest houses and three huts for staff and tourists. "We have every facility for sighting; so tourists and nature lovers should visit this park," said Peer Mushtaq, Range Officer, Baramulla.
Pervaiz Ahmad, a resident of Lachipora said the Central ministery should have shown special interest towards the park. "This park is rich in wild animals, birds, butterflies and medicinal plants, the only thing needed is proper upkeep and facilities," he said.
Mining threat to park
The mining of gypsum close to the park is threat to the wild species.
"These mining is a big threat to the park, but we can't stop them as these are run by influential people. If we start to take action, we get phone calls from top officials," said an official on condition of anonymity.