India, Myanmar sign MoU for Rakhine State's development
Published on Dec 20, 2017 08:31 PM IST
The minority Rohingya community does not enjoy citizenship in Myanmar and is sparingly given refugee status in Bangladesh.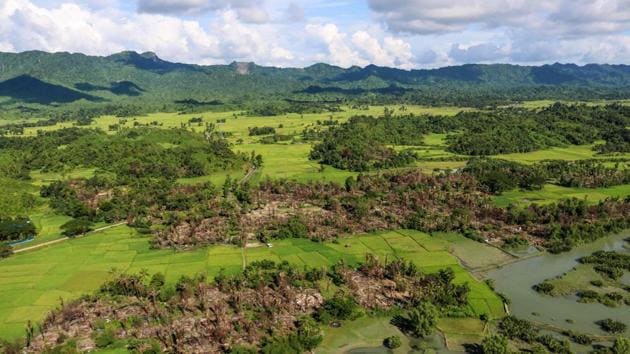 Indo Asian News Service, New Delhi |
Indo Asian News Service
India and Myanmar on Wednesday signed a MoU to develop Rakhine State, from where thousands of Rohingya Muslims have fled to Bangladesh following a military crackdown.
Foreign secretary S Jaishankar and Myanmar's deputy minister for social welfare, relief and resettlement U Soe Aung signed the Memorandum of Understanding.
"This MoU is the first government to government agreement signed by the Ministry of Social Welfare, Relief and Resettlement of Myanmar with a cooperation partner focussed on socio-economic development and livelihood initiatives in Rakhine State," the external affairs ministry said.
"This is intended to help the government of Myanmar achieve its objective of restoration of normalcy in Rakhine State and enable the return of displaced persons," a statement said.
It stated that the Indian government proposed to take up, among others, a project to build prefabricated housing in Rakhine State, so as to meet the immediate needs of returning people.
Jaishankar's visit is of strategic importance after more than 650,000 Rohingyas fled to neighbouring Bangladesh since violence erupted in Rakhine in August.
The minority Rohingya community does not enjoy citizenship in Myanmar and is sparingly given refugee status in Bangladesh.
Human rights monitors have accused Myanmar's military of atrocities against the Rohingyas.
India has maintained that the issue should be handled in a humane manner, development activities should be initiated in Rakhine State and conditions should be created for the safe and secure return of the refugees to their homes.
Jaishankar, during his day-long visit, also called on Myanmar state counsellor Aung San Suu Kyi, Union minister in state counsellor's office U Kyaw Tint Swe and Union minister for social welfare, relief and resettlement Win Myat Aye.
All matters relating to bilateral cooperation, including follow-up on decisions taken during the visit of Prime Minister Narendra Modi to Myanmar, as well as matters pertaining to Rakhine State were discussed during these meetings.
According to the external affairs ministry, ongoing friendship projects were reviewed.
These included operation and maintenance of the deep-water port at Sittwe, the capital of Rakhine State, and the road from Paletwa to Zorinpui on the border of India's northeastern state of Mizoram.
Both the port and road are parts of the Kaladan Multi-modal Transit and Transport Project being developed by India, which is aimed at reducing the need to transport goods between northeastern India and the rest of India through the narrow Siliguri corridor
Other key projects, such as the Rhi-Tiddim road project, the Trilateral Highway road from Kalewa to Yargyi, the project to build 69 bridges on the Tamu-Kyigone-Kalewa road, the Yamethin Police Training Centre and hospital projects, among others, were also discussed.
Earlier, Jaishankar also called on Commander-in-Chief of the Myanmar Defence Services, Senior General Min Aung Hlaing.
According to the statement, all matters relating to security and bilateral cooperation as well as the situation in Rakhine State were discussed.
Close Story
Personalise your news feed. Follow trending topics