India, Pakistan hold flag meet to discuss Jammu and Kashmir border firing
Updated on Jun 04, 2018 08:47 PM IST
The meeting was called by Pakistan after firing in Jammu and Kashmir's Pargwal sector prompted Indian forced to retaliate on Sunday.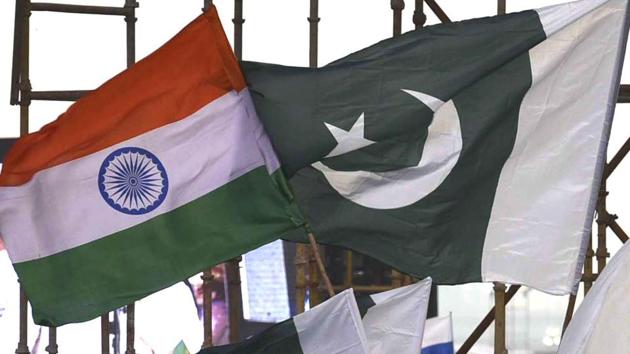 The BSF and Pakistan Rangers held a sector-commander level flag meeting at Octroi post in Suchetgarh area of RS Pura sector Monday evening to restore sanity on the border after Pakistani firing killed two BSF men and injured 14 civilians on Sunday in Pargwal sector of Jammu district.
The Rangers had requested for the flag meeting after sustained retaliatory fire by the BSF following Sunday's sniper fire and shelling in Pargwal sector, a BSF official said.
BSF DIG PS Dhiman led the Indian side while Pakistani Rangers were led by Brigadier Amjad Hussain.
BSF Jammu frontier inspector general Ram Awtar said, "Three sector commanders of the BSF Jammu frontier participated at the sector commander level flag meeting. Pakistan Rangers were led by Brigadier Amjad Hussain while deputy inspector general PS Dhiman led the BSF."
"A BSF-Pak Rangers sector commander level meeting was held at 1730 hours (5.30 pm) on Monday opposite own Octroi border outpost. The meeting was held in conducive atmosphere with prime focus to maintain peace and tranquility on the border," said a senior BSF officer. It was further decided to hold next sector commander level meeting on June 21, he added.
"Today's meeting is likely to bring firing-free environment, particularly for border area villagers on both sides. Commanders on both sides agreed to keep talks on at every level to develop confidence between two border guarding forces," he said.
After a nine-day long intense shelling by Pakistan from May 15 to May 23 left 12 people dead and 56 others injured besides displacing over one lakh people from Jammu, Samba and Kathua districts, the two countries had a DGMO level talk on May 29 to restore November 2003 ceasefire agreement to bring calm to the borders.
On May 20 Pakistan Rangers, who had initiated unprovoked fire from May 15 to May 23, had contacted BSF Jammu over hotline with a plea to stop firing.
On Sunday, BSF IG Ram Awtar had stated that the Pakistan Rangers were not adhering to the ceasefire agreement in letter and spirit and that there was difference between words and deeds of Pakistani troops.
Pakistani sniper fire and shelling on Sunday that killed two BSF men and injured 14 villagers again shattered hopes of sanity on the borders and caused fear among the villagers living close to the 'live' border in the plains of Jammu.
Amid a spike in grenade attacks in Kashmir and tense borders, Union home minister Rajnath Singh is scheduled to visit the state on June 7 and 8 to review security, especially in light of the annual Amarnath Yatra pilgrimage that begins on June 28.
Pakistan has violated the ceasefire along the Line of Control (LoC) and the international border close to 1,100 times this year, resulting in the death of over 35 people.