India willing to go extra mile to help Sri Lanka: Jaishankar
Jan 21, 2023 12:22 AM IST
External affairs minister S Jaishankar said India is a reliable neighbour, a trustworthy partner and one who is prepared to go the extra mile when Sri Lanka feels the need
India on Friday made a pitch for greater energy and trade links with Sri Lanka to drive the island country's economic recovery, even as external affairs minister S Jaishankar emphasised the importance of fully implementing measures to protect the interests of the Indian-origin Tamil minority.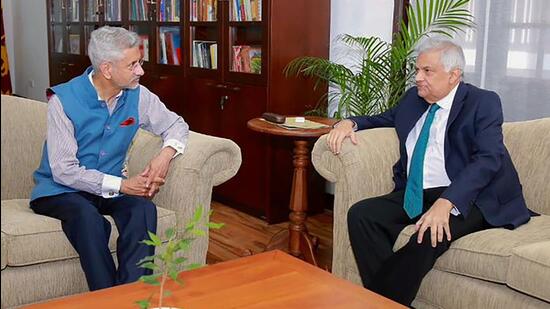 During Jaishankar's meeting with President Ranil Wickremasinghe in Colombo, the two countries signed a memorandum of understanding on Indian grant assistance for community projects focused on education and health. Jaishankar also participated in the virtual inauguration of a dance academy and handing over of some 350 houses built with Indian aid.
Jaishankar travelled to Colombo shortly after India became the first of the Sri Lanka's creditors to back the country's debt restructuring programme by sending financial assurances to the International Monetary Fund (IMF). China, India and Japan are the crisis-hit island country's three main creditors. As China and India are not members of the Paris Club, it is essential for Sri Lanka to secure their financial assurances to get a bailout package from the IMF.
At a joint media interaction with Sri Lanka's foreign minister MUM Ali Sabry, Jaishankar said India will stand by Sri Lanka in its hour of need. "I would like to underline that India is a reliable neighbour, a trustworthy partner, one who is prepared to go the extra mile when Sri Lanka feels the need," he said.
Jaishankar pointed to the need to enhance links between the two countries in energy, trade and investment to boost Sri Lanka's recovery from an unprecedented economic crisis. He noted that India extended $4 billion in terms of credit and roll-overs to help Sri Lanka get through the crisis, saying this was "an issue of 'Neighbourhood First'".
"India will encourage greater investments in the Sri Lankan economy, especially in the core areas like energy, tourism and infrastructure. We count on the government of Sri Lanka to provide a more business-friendly environment to create a powerful pull factor," he said. The use of rupee settlement for trade would be in the mutual interest of both countries, he added.
Sri Lanka's quest for energy security must "encompass the larger region" and Trincomalee can emerge as an energy hub, Jaishankar said. India is ready to be a reliable partner for such initiatives and the two sides have agreed in-principle on a renewable energy framework, he added.
Last year, Sri Lanka signed a deal with a subsidiary of Indian Oil Corporation (IOC) for a long-gestating project to develop the Trincomalee oil tank farm, an 850-acre storage facility with a capacity of nearly one million tonnes.
Jaishankar said the two sides can take more steps to make Sri Lanka's tourism industry sustainable, such as strengthening connectivity, encouraging Indian tourists to make RuPay payments and utilising UPI. India is currently the largest source of tourist arrivals in Sri Lanka.
He also brought up India's long-standing demand for further measures to protect the interests of Sri Lanka's Tamil minority. "India has always supported both the political and economic stability of Sri Lanka. The president briefed me on the question of political devolution and his thinking," he said without giving details.
He said he had shared with Wickremasinghe India's "considered view that the full implementation of the 13th amendment and early conduct of provincial elections are critical". He added, "Durable efforts towards reconciliation are in the interests of all sections in Sri Lanka. I also spoke of the need to pay special attention to the requirements of the Indian-origin Tamil community."
Jaishankar's visit is also being seen as an opportunity to reset the relationship with Sri Lanka, which took a hit last year after Colombo allowed the Yuan Wang 5, a surveillance vessel of China's People's Liberation Army (PLA), to visit the Chinese-controlled Hambantota port for replenishment. Officials on both sides have acknowledged that the development created a trust deficit, especially at a time when India is locked in a border standoff with China.
While China has dragged its feet on providing financial assurances for Sri Lanka's debt restructuring programme, people familiar with the matter said India has been more forthcoming.
Jaishankar said India believes Sri Lanka's creditors "must take proactive steps to facilitate its recovery". He added, "India decided not to wait on others but to do what we believe is right. We extended financing assurances to the IMF to clear the way for Sri Lanka to move forward. Our expectation is that this will not only strengthen Sri Lanka's position but ensure that all bilateral creditors are dealt with equally."
Sabry emphasised India's role in Sri Lanka's recovery and said: "It is no exaggeration to say that it was for the most part due to the enormous support amounting to $4 billion worth of credit lines provided by India, for the import of essential goods as well as other in-kind humanitarian assistance, that we were able to regain some measure of economic and financial stability."
Jaishankar handed over Prime Minister Narendra Modi's invitation to Wickremesinghe to visit India at an early date to discuss how the two sides can facilitate Sri Lanka's recovery.