Uttarakhand town residents hold torchlight protest as 561 houses develop cracks
Jan 05, 2023 11:29 AM IST
A total of 561 houses have developed cracks in the town, the district administration said, reported ANI.
Residents of Uttarakhand's Joshimath held a torchlight protest Wednesday night to highlight cracks developing in as many as 561 houses as a result of continued land subsidence in the spiritual town, district disaster management officials were cited by news agency ANI. Visuals shared by ANI show hundreds gathered on the town's street with flaming torches. Reports indicate at least 66 families have fled the town because their homes developed cracks.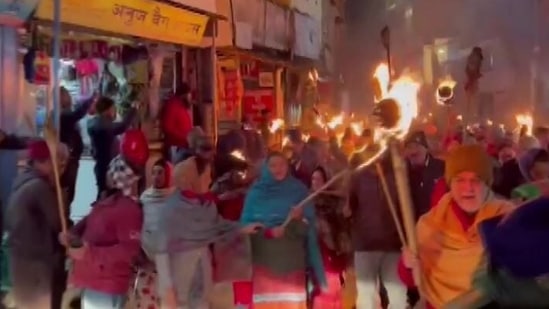 "Now process of increasing cracks in Singhdhar and Marwadi (wards of Joshimath) has started. Badrinath National Highway near Singhdhar Jain locality and JP Company Gate in Marwadi... near forest department check post... is continuously cracking," Joshimath Municipal Chairman Shailendra Panwar said, "... (cracks) increase every hour... worrying."
Cases of water seepage have also been reported in parts of Marwadi and two hotels in Joshimath town have been closed as a precautionary measure. Panwar said over 3,000 people have been affected so far, and that 'all houses are being surveyed by the municipality'.
"Cracks are also increasing on all the main roads of Sunil Ward due to which people are facing a lot of difficulty in walking," Panwar said, noting that he had travelled to state capital Dehradun 'to meet chief minister (Pushkar Singh) Dhami to discuss the entire situation'.
"There have been reports cracks have appeared in the houses due to leakage of water from inside the ground in the Marwadi ward," he said.
Also read: Uttarakhand: Vehicle carrying 12 falls in 500-mtr-deep gorge in Chamoli, all dead
On Wednesday, the chief minister said necessary action would be taken to save people. "I will be visiting Joshimath in the coming days and initiate steps to handle the situation. All the reports will be monitored and all the required steps will be taken. I have had a word with the Municipal Corporation chairman (Panwar) to monitor the condition in the district," he said.
The CM's statement comes amid reports of cracks in houses due to land subsidence, or the vertical sinking of land. Located on NH7 at a height of 6,150 feet, Joshimath is the doorway to the holy shrines of Badrinath and Hemkund Saheb, Valley of Flowers, and Auli.
Also read: Hemkund Sahib closed for winter
However, as reported by ANI, the winter season and the danger of houses collapsing due to landslides have now become a major issue. Nine wards have been affected by landslides and cracks in the walls and floors of houses get deeper each day, sounding an alarm for people.
One of those houses belongs to Madhavi Sati, the ex-Municipal President of Joshimath town area, who told ANI, "I have no other option but to live in a ruined house... the people of Joshimath are worried about the future of the city."
(With inputs from ANI)
Topics