The doomed coalition governments of Jammu and Kashmir
A timeline of the coalition governments that have ruled Jammu and Kashmir and their fate.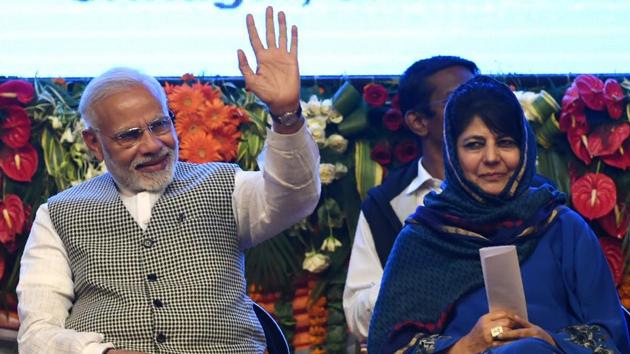 Updated on Jun 19, 2018 11:32 PM IST
Hindustan Times, New Delhi |
Ashiq Hussain
Of five coalition governments in Jammu and Kashmir since 1947, only the National Conference-Congress alliance (2009-2015) lasted a full term. Others collapsed mid-way, triggering instability. A timeline:
2015-2018: PDP- BJP form a coalition of two parties that are ideologically poles apart but brought together by a hung assembly. While the PDP got all of its 28 seats in Muslim-majority Kashmir, the BJP romped home to an unprecedented victory in Hindu-dominated Jammu. The two stitched up a power-sharing pact but cracks surfaced soon after.
2009-2015: National Conference and Congress form an alliance government and take turns for the chief minister's post.
2002-2008: The PDP and Congress stitch up a coalition government with rotational chief ministership of three years each. Mufti Mohammad Sayeed is at the helm upto November 2006 and paves the way for Ghulam Nabi Azad of Congress. But the coalition collapses after PDP pulls out in 2008 over the allotment of Kashmir land to the Amarnath Shrine Board.
1982-86: After the death of his father Sheikh Abdullah, National Conference president Farooq Abdullah wins elections and gets a majority. The Congress engineered defections in NC and topples the Farooq government. His brother-in-law Ghulam Ahmad Shah is propped up as chief minister with the backing of Congress. But, the government fails to complete its tenure.
1975-77: The year 1975 is witness to an accord between National Conference leader Sheikh Abdullah and prime minister Indira Gandhi allowing the former to become chief minister after more than two decades. In 1977, the Congress withdraws support to Sheikh, leading to dissolution of assembly.
Close Story