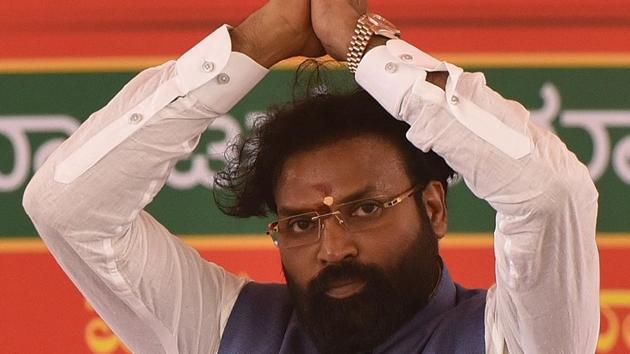 Karnataka election results 2018: Sriramulu could be deputy chief minister in next govt, say BJP leaders
Tribal leader B Sriramulu and Lingayat strongman BS Yeddyurappa have helped the BJP significantly gain in the Karnataka election results.
UPDATED ON MAY 15, 2018 01:23 PM IST
Tribal leader B Sriramulu could be appointed the deputy chief minister in the next Karnataka government, two Bharatiya Janata Party leaders said on Tuesday, as the saffron party touched the halfway mark in leads and was ahead in 112 seats as votes were being counted in the assembly elections.
"We see a big role for him in the state. He could be made deputy chief minister. A final decision is yet to be taken," the first BJP leader, who did not want to be named, said.
"He is certainly going to get promoted as one of the key faces. He will get an important assignment, such as that of deputy CM, in the next government," the second leader of the party said requesting anonymity.
The 46-year-old Sriramulu belongs to the north Karnataka region, where the party has done pretty well. The return of Lingayat strongman BS Yeddyurappa and Sriramulu to the BJP seems to have helped consolidate anti-Congress votes and propel the saffron party closer to power in Karnataka, election data shows.
Sriramulu became a councillor in Bellary at the age of 25 in 1996 and there has been no stopping for him since then.
Also read: Track the Karnataka election results on our live blog and interactive maps that provide real-time data and analysis
He made his debut in Karnataka assembly in 2004 and got elected four times before entering Parliament in 2014. He walked out of the BJP in 2012 and floated his own BSR Congress Party to contest the 2013 assembly election only to return ahead of the 2014 parliamentary elections.
A promotion for Sriramulu is in line with the strategy of Prime Minister Narendra Modi and BJP chief Amit Shah to promote leaders from outside the dominant community of a state.
Sriramulu belongs to the Nayaka tribe of Karnataka, whose politics is dominated by Lingayat and Vokkaliga leaders.
The BJP had appointed a Punjabi as the chief minister in Jat-dominated Haryana, a Vaishya in tribal-populated Jharkhand and a Brahmin in Maharashtra where Marathas command control.
"We need to groom leaders for future and look beyond the Lingayat-Vokkaliga axis of Karnataka politics," the first leader said.
Sriramulu was the only Lok Sabha member after the BJP's presumptive chief minister BS Yeddyurappa who was fielded in the assembly election.
He was the first to be given a ticket to contest from Molkalmuru in Chitradurga districts and, later, fielded against chief minister Siddaramaiah when he chose to contest from Badami in Bagalkot district.
Sriramulu was leading in Molkalmuru at around 12pm with a margin of over 20,000 votes and trailing Siddaramaiah in Badami by less than 3,000 votes.
Close