Karnataka elections 2018: JD(S) lost in terms of vote share, but is better off than Congress, BJP
May 15, 2018 07:58 PM IST
Congress managed to increase its vote share in the Karnataka election but saw a decline in seats
After the 2017 Gujarat polls, Karnataka 2018 is another one of those elections where the incumbent party lost many seats despite increasing its vote share. To be sure, the BJP did not lose its majority in Gujarat like the Congress did in Karnataka.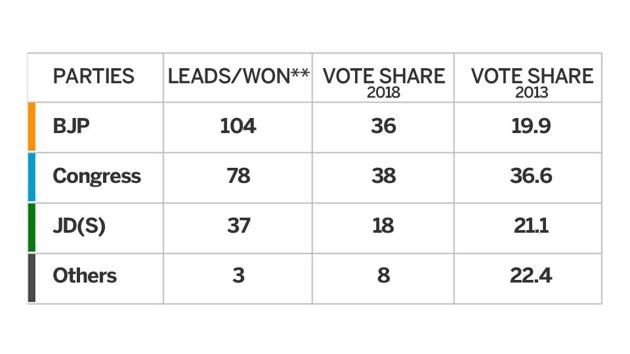 According to figures from Election Commission of India (at 6:30 pm), the vote share of the Congress has increased by 1.4 percentage points over the 2013 figure. Despite this the party is likely to lose as many as 44 seats compared to the 2013 tally.
Stay tuned with breaking news on HT Channel on Facebook.
Join Now
This shows that Congress's 2013 performance in terms of seats was mainly due to a split in the BJP's support base. The BJP polled less than 20% of the popular vote in 2013, largely due to the dent it suffered from BS Yeddurappa's Karnataka Janata Paksha spin-off. With both BS Yeddurappa and B Sriramulu back in the fold, BJP's 2018 vote share has increased by more than 16 percentage points compared to the 2013 figure. Although, the BJP has gained a lot it terms of seats, it has failed to reach the majority mark.
Both national parties have added to their vote shares in comparison to what it was in the 2008 Karnataka elections, which is a better benchmark than 2013 when the BJP saw a split. However, the Janata Dal (Secular) has been successful in not just retaining its relevance but also keep alive its hopes of getting the chief minister's post by winning 37 seats with just 18.4% vote share, which is 1.8 percentage points less than what it had in 2013.
The BJP, leading or winning in 104 seats, has staked claim to form the government . So has the JD (S) with support from the Congress.