Kerala floods: 67 choppers, 24 planes, 548 boats mobilised in one of the largest rescue operations in India
Hindustan Times, Kochi and New Delhi |
HT Correspondents
Aug 19, 2018 11:27 AM IST
The Kerala flood, described by the chief minister as the worst in nearly a century, began shortly after August 8 when a spell on unusually heavy rain began.
Officials said 67 helicopters, 24 aeroplanes and 548 motorboats have fanned out across Kerala in what has turned into one of the biggest rescue operations to be carried out in India, involving more than a hundred thousand personnel from the armed forces, the Coast Guard, and federal and state disaster response forces.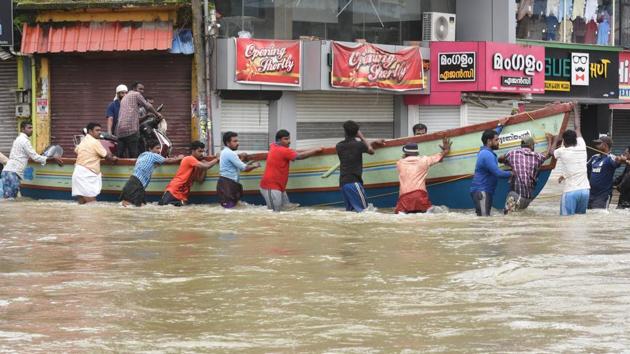 The rescuers have raced against time to reach thousands of people trapped on rooftops as water from swollen rivers reached as high as the second storey of houses in some regions. The flooding, described by the chief minister as the worst in nearly a century, began shortly after August 8 when a spell on unusually heavy rain began.
In this period, nearly 222 people have died and around 350,000 have been taken to relief camps. "It is one of the biggest relief operations undertaken in recent years," a home ministry official said, asking not to be named since he was not authorised to speak on the matter.
In addition to the state government, the Union government is closely coordinating the deployment of central resources, including those from the Army, Navy and the Air Force.
The National Crisis Management Committee (NCMC), headed by cabinet secretary PK Sinha, met for the third time in three days on Saturday to review the rescue and relief operations.
The Naval airstrip in Kochi will be opened for commercial flights by August 20, the committee was informed. The Kochi airport has been flooded.
Union rail minister Piyush Goyal said his ministry was also pitching in. "Railways will now provide free transportation of relief material for Kerala through various State Govt agencies, PSUs and other Government agencies," Goyal tweeted.
Central ministries had till Saturday pitched in with 300,000 food packets, 600,000 MT of milk, 1,400,000 litres of drinking water and 150 potable water purification kits.
Read: Kerala woman refuses to leave flooded house without her 25 dogs
Telecom operators have already announced free calling, messaging and data services in the state.
Citizens collective have also launched massive collection in drives across the country, tapping into social media to urge people to head to nearby centres and contribute with medicines, clothes, water bottles and other items of basic need.
"We are sending our first lot of meal boxes to Wayanad on Sunday. By next week, more material will be sent to Mundalur in Kannur. Our intention is to provide immediate assistance to the affected families, and once the rains subside, help them get back to their normal lives as soon as possible," said Dola Mohapatra, the executive director of Rise Against Hunger India (RAHI), an international non-government organisation.
(With inputs from agencies)