Narendra Modi in Ajmer Highlights: Why is the Congress not fighting elections on facts, says PM
Prime Minister Narendra Modi launched the BJP's poll campaign in Rajasthan on Saturday with the Vijay Sankalp rally in Ajmer. The rally will mark the conclusion of chief minister Vasundhara Raje's Rajasthan Gaurav Yatra.The BJP is leaving no stone unturned to make Modi's public rally a grand success. State unit president Madan Lal Saini has said that three lakh people will be attending the rally.Here are the highlights: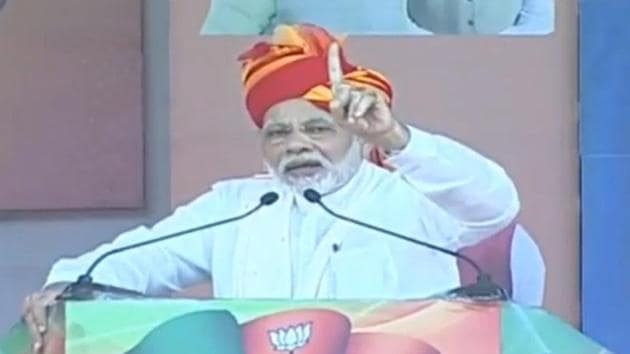 Updated on Oct 06, 2018 03:41 PM IST
2:42pm IST
Concentrate on booths to win elections: PM
Har booth, kamal booth. If we win booths, we win the elections.
2:40pm IST
Water for drinking and irrigation
Two lakh hectare will have irrigation facilities through water from Chambal. 13 districts and 40 lakh people will get sweet water to drink.
2:38pm IST
Houses for poor
We gave houses, electricity, water, bathrooms, gas connection together. Our opponents forgot that people need all these together. Just to win elections, they promised one thing before every election.
2:35pm IST
Brought relief for triple talaq victims: Modi
We also brought relief for women against triple talaq. We do not discriminate on the basis of religion. I thank MP and Rajasthan govts for death sentence against rapists. Justice has been fast-tracked. Demons with such mentality should be scared.
2:32pm IST
Maternity leave for 26 weeks: PM
Our countrymen is our family. 30% women working in govt departments. Our govt gave maternity leave for 26 weeks. Even the richest countries in the world did not do this.
2:30pm IST
This is a govt for farmers: Modi
Rs 62,000 crore will go to farmers every year after every farming season. Congress never thought for farmers. Farmers have insurance for crops like never before. But some people only like politics of violence, they never thought about anybody's development. So they never dare to debate over development. Why is the Congress not fighting election on facts? Why are they indulging in spreading lies and abuses?
2:26pm IST
Congress stooping low on surgical strikes: PM
Surgical strike is an achievement of our jawans. Which Indian won't feel proud of them? What happened to Congress that they first tried to defame our brave jawans, and now that the youth is inspired, you still do not shy away from dirty tricks. Ashamed of your thoughts.
2:24pm IST
Raje working for economic development of Rajasthan: PM
Vasundhara Raje is working for the economic development of Rajasthan. Last time, I had come for some official work, but the opposition thought otherwise. They thought I had some for politicking.
2:20pm IST
Will provide electricity to all: PM
When Vasundhara Raje came to power, so many people were living in the 18th century (darkness). We had promised electrification for all. We provided electricity to 13 lakh people. Those who are yet to get electricity, the Rajasthan govt and Centre are working for them.
2:18pm IST
People think they can change politics with a hug:PM
There are people who think that they can change the course of their politics with a hug, says PM Modi.
2:15pm IST
After 60 years, the country is in the right direction: PM
After 60 years, the country is in the right direction. They should not be given another chance. An aware opposition is always healthy for democracy.
2:12pm IST
Some people worship the dynasty: Modi
Some people worship the dynasty, but we worship the people. These people provide budget for vote bank politics, but then no actual work is done. Contracts are given to relatives of these leaders.
2:10pm IST
Oppn only works for those who vote for them: PM
We want good governance. Only then, there will be development. Some people will always work for the community that votes for them. This destroys the balance of development. Congress did this for 60 years.
2:06pm IST
Vote bank politics destroys the entire system
Vote bank politics is not only limited to elections. It destroys the entire system. It gives rise of mistrust. Administration suffers.
2:04pm IST
PM accuses opposition of appeasement politics
We work for a new politics. On one side, we have appeasement politics, on the other, sab ka saath sab ka vikas. There's hell and heaven difference. Those who do appeasement politics, they have fun dividing people on the basis of caste, religion, gender, age. It is easy to break, but not easy to repair.
2:00pm IST
Easy to say anything when you are in opposition: Modi
It is easy to say anything when you are in opposition. You don't have accountability. But when you are in power, you are accountable for every person. BJP never shies away from that. We work for the happiness of all.
1:55pm IST
This is the land of Prithviraj Chouhan: Modi
The huge crowd here will shape the future of Rajasthan. This is the land of Prithviraj Chouhan and many other heroes. I seek your blessings. I might be the PM of India and for the world, but for the BJP, I am always an activist. I can even attend booth meetings. It is my honour to be with Vasundhara Raje.
Close Story