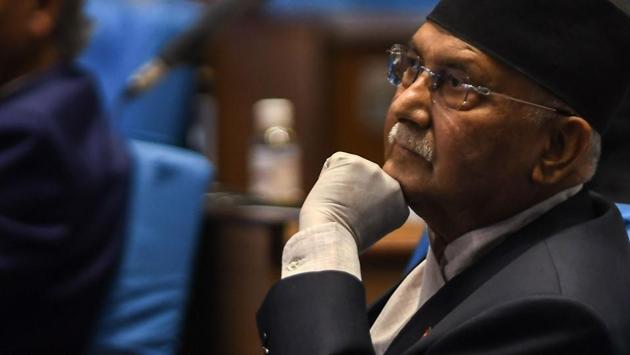 Nepal PM's attack on India backfires, chorus for his exit becomes louder at party meet
Nepal PM KP Sharma Oli is under increasing pressure to quit over his government's alleged failures to deal with important domestic issues.
Hindustan Times, New Delhi | By hindustantimes.com | Edited by Abhinav Sahay
UPDATED ON JUN 30, 2020 09:08 PM IST
Prime Minister KP Sharma Oli, who had last week blamed India for his mounting troubles, on Tuesday faced a sharp attack from top leaders of the ruling Nepal Communist Party who demanded that the prime minister step down immediately, according to news agency ANI.
PM Oli had last week accused New Delhi of orchestrating efforts to topple him in an effort to put the rival faction led by co-chairman Pushpa Kamal Dahal on a back foot. PM Oli, speaking at an event on Sunday, had claimed that his rivals were trying to pull the rug from under his feet because he had brought out a new political map that had upset Nepal's giant neighbour. But this attempt appeared to have backfired.
At the party's 44-member standing committee meeting on Tuesday, local media reports quoted communist party leaders such as Pushpa Kamal Dahal, Madhav Nepal, Jhala Nath Khanal and Bamdev Gautam stepping up their pitch to seek his removal. They have argued that the Oli-led government had failed to deliver on basic governance issues and was blaming India to divert attention, according to a report in the website of newspaper The Himalayan Times.
Also Read: Nepal extends lockdown to July 22
"As things progressed, party co-chair Pushpa Kamal Dahal asked PM Oli to quit owing to the government's gross, all-round incompetence, according to a source close to Dahal. Many NCP (NCP) leaders came down heavily on PM Oli for failing to deliver as well as for applying diversion tactics to fend off criticisms," the Himalayan Times report on its website said.
Local media reports said PM Oli's rival faction is "hell bent" to force him to either quit the Prime Ministerial post or the position of party co-chair. eKantipur, another news website suggested that PM Oli tried to brush aside calls for his resignation, repeating his allegation about New Delhi's role.
Also Read: How Nepal's PM is harming ties
Pushpa Kamal Dahal, better known by his nom de guerre 'Prachanda', slammed Oli.
"The Prime Minister's remarks that India was conspiring to remove him was neither politically correct, nor diplomatically appropriate," Prachanda said, according to news agency PTI. "Such a statement by the Prime Minister may damage our relations with the neighbour," he warned.
PM Oli had last month unveiled Nepal's new map that made fresh territorial claims on India's Lipulekh, Kalapani and Limpiyadhura region. Analysts in Kathmandu and New Delhi had interpreted his government's hard push to the map to be an effort to whip up ultra-nationalistic sentiments against India. PM Oli's rivals within and without the party played along with him to accord parliamentary approval to the new map but revived the campaign for his ouster soon after.
Also Read: India's ties with Nepal set for deep freeze after Kathmandu's decisive step on new map
India has rejected Nepal's claim as "untenable" and described it as an "artificial enlargement" of the territorial claims. It has also maintained that New Delhi values its friendly relations with Nepal and its people.
Three days ago, Communist party president Pushpa Kamal Dahal Prachanda had demanded Oli's resignation while questioning his attempt to pass on the blame to New Delhi. On Monday, Nepal foreign minister Pradeep Kumar Gyawali had said that the government hoped that the territorial dispute between India and Nepal would be resolved through diplomatic efforts and that it should not impact other dynamics of the bilateral ties, as reported by PTI.
Topics
Close