Taj Mahal left out of UP budget heritage plan, Adityanath govt draws ire
Jul 13, 2017 12:54 PM IST
The Taj Mahal is one of the seven wonders of the world, an Unesco world heritage site that draws millions of tourists from across the globe and earns the government crores in revenue.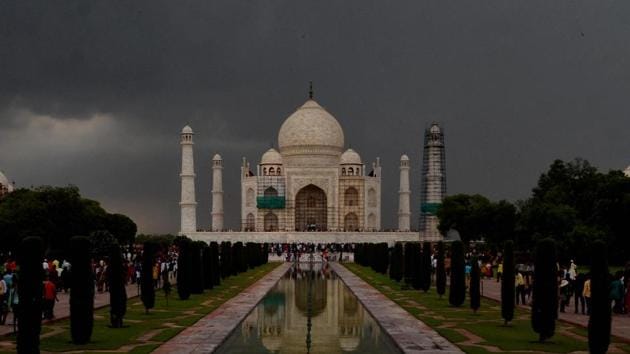 But the 16th-century structure isn't part of Uttar Pradesh's cultural heritage, according to the Yogi Adityanath government's first state budget presented on Tuesday. The move has invited criticism by academics.
The annual budget for 2017-2018 makes no mention of Taj Mahal in the special section 'Hamari Sanskritik Virasat' (Our Cultural Heritage) incorporated in the finance minister's 63-page speech. Chief minister Yogi Adityanath has often pointed out that the Taj Mahal, built by the Mughal emperor Shah Jahan, did not reflect India's ancient culture
The Taj Mahal was one of a string of monuments and heritage sites that was left out of the budget, triggering criticism that the exercise was communally inspired and bore the Hindutva stamp. A number of schemes were announced for Hindu pilgrimage towns of Ayodhya, Varanasi, Mathura and Chitrakoot.
"Our government has formulated schemes for maintenance of places of cultural and historical importance to promote tourism," said finance minister Rajesh Agarwal, invoking Hindu god Ram in the assembly.
The exclusions sparked criticism with top academics and historians saying the government should promote the composite multi-faith culture of India's largest state.
"The identification of heritage with Hindu identity is in complete contradiction with UP's 'Sanjhi Virasat'(Shared Heritage)," said Athar Siddiqui of the Centre For Objective Research And Development.
Others feared any neglect of the Taj Mahal would hurt tourism revenue. "Agra has three world Heritage sites and deserved a better deal in budget. If tourism in Agra grows, circuit cities like Mathura would grow automatically," said Rajeev Saxena, secretary for Tourism Guild of Agra.
Professor Rajesh Mishra of Lucknow University advised the government to either completely delink the state from all religious establishments or be more considerate to sentiments of people of all religions. "There is no room for appeasement for people of one religion and complete disregard for others," he told HT.
The budget launched a 'Swadesh Darshan Yojana' with Rs 1,240 crore focusing on the Ramayana Circuit (Ayodhya), the Buddhist Circuit (Varanasi) and the Krishna Circuit (Mathura). Another scheme, Prasad Yojana, with an allocation of Rs 800 crore, has been proposed for development of infrastructure facilities in Ayodhya, Varanasi and Mathura.
Besides, Rs 200 crore has been earmarked for setting up of a cultural centre at Varanasi, Prime Minister Narendra Modi's Lok Sabha constituency.
Sohan Lal Yadav, Sociology professor at Banaras Hindu University, said the state government had given more importance to the cities that fit in its agenda. "The Taj Mahal is a monument of national importance and international fame. It can't be seen linking with any religion. It is a monument. No government can ignore it."