No summer respite from air pollution this season in Delhi
Updated on May 14, 2019 09:31 PM IST
It's peak summer but air pollution levels in Delhi are almost as bad as they are in winter, highlighting the Capital's enduring bad-air problem.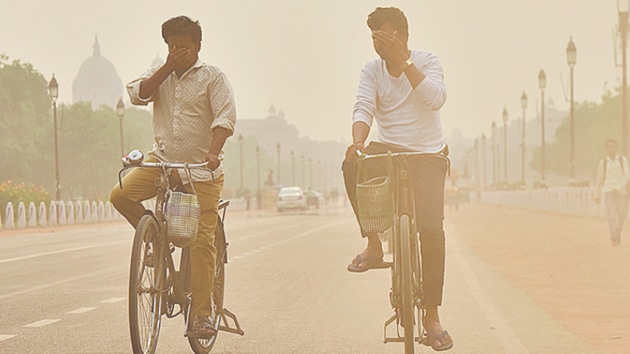 Hindustan Times, New Delhi |
Jayashree Nandi
It's peak summer but air pollution levels in Delhi are almost as bad as they are in winter, highlighting the Capital's enduring bad-air problem.
Air quality on Monday was in the "very poor" category, aggravated by westerly winds bringing dust from neighbouring states, stubble burning in parts of Punjab and Haryana, and forest fires in Uttarakhand. There have been four "very poor" air quality days in the past week and the average PM 2.5 (fine, respirable pollution particles) concentrations often crossed 250µg/m3, four times the national safe standard.
PM 2.5 concentrations have even crossed 500µg/m3 at Anand Vihar, Bawana and Rohini, according to data collated by Delhi-based environmental communications initiative, from the Central Pollution Control Board (CPCB).
Heavy showers were recorded by the IMD (India Meteorological Department) in parts of the national capital on Monday night, bringing some relief from the scorching heat and the rising pollution, with the Air Quality Index (AQI) coming down slightly from 322 at 4pm to 311 at 11pm. The AQI is calculated on a scale of 0-500 with a 0-50 score considered "good", 51-100 "satisfactory", 101-200 "moderate", 201-300 "poor", 301-400 "very poor" and 401-500 "severe".
Environment scientists, however, said this slight drop in the pollution could be temporary as it was due to the rain, and the pollution will remain in the "poor" or "very poor" category at least till May 16 due to the recurrent dust storms.
Ghaziabad on Monday was the most polluted city in the country with an Air Quality Index (AQI) of 384 as per the CPCB data. Neighbouring Noida was the second most polluted city with AQI value of 347.
Officials from East Municipal Corporation, New Delhi Municipal Council and public works department said they have been sprinkling water, covering construction sites, mechanically sweeping roads regularly to combat dust pollution, but pollution levels don't reflect these actions.
Poor air quality in Delhi has been aggravated by westerly winds bringing dust from neighbouring Rajasthan and Haryana and below-normal pre-monsoon showers in northwestern India, leading to extremely dry and dusty conditions. Pre-monsoon rainfall between March 1 to May 8 over northwest India is 37% below the long-period average, according to data released by the India Meteorological Department (IMD).
Minutes of the meeting held by the task force on the graded response action plan (GRAP) on May 8 show that it was briefed about a sudden rise in particulate matter concentration in Delhi-NCR to "very poor" category and further, moving towards the "severe" category as a result of a fresh plume of dust emitted from western Rajasthan and northern Gujarat reaching Delhi on May 8.
The task force recommended that agencies intensify efforts to control dust from various sources such as construction and demolition sites, handling of construction material waste, roads, stone crushers, and ready mix concrete plants.
The task force also advised public to minimise prolonged exposure to high air pollution levels outdoor. "GRAP is already being implemented. The main source for a spike is dust which is being transported from nearby areas and even generated locally. The weather conditions are ideal for re-suspension," said VK Shukla, head of CPCB's air quality lab in Delhi. Re-suspension refers to dust from local sources continuing to be suspended in the air as opposed to settling.
Air quality has been exacerbated by forest fires in various districts of Uttarakhand over the past week. The state recorded the highest number of forest fires in the past week with about 4,000 fires detected through satellite images by the Forest Survey of India (FSI). "There is a sudden spike in forest fires now because the weather conditions are ideal. Till two weeks back, there was moisture in the soil because of some thunderstorm activity. It has been dry and hot since," said a FSI official on condition of anonymity. Almora, Pauri Garhwal and Nainital are the worst affected districts , according to FSI data.
Wheat stubble has also been burnt in various parts of Punjab and Haryana since May 1, though the extent of crop stubble burning is far lower than paddy stubble burning which takes place in September. "Only 40% of the farms in Punjab may have set fire to wheat stubble this time. Most of the stubble burning is over and fields are being prepared for monsoon now. Wheat leaves behind a short stubble of 1 or half an inch which is burnt off to save money. Using machinery is expensive," said Harinder Singh Lakhowal, general secretary, Bharatiya Kisan Union in Punjab.
The air quality could improve in the next few days, although IMD's bulletin on Monday said dust-raising winds are likely over north India till Tuesday evening.
"There is heating and strong westerly to south westerly winds, bringing dust from Rajasthan and adjoining areas. I think the fires in Uttarakhand and Haryana will have localised impact. They may only have minor impact in Delhi. We are expecting thundershowers in the next three to four days, and the dust particles are likely to settle down after that," said BP Yadav, head of IMD's regional meteorological centre.
According to the officials, the dust raising winds could lead to similar polluted conditions for next three to four days. "The rise in pollution in Delhi-NCR is due to dust raising winds coming from Rajasthan. The areas which will receive light rain may see a reduction in pollution," said Kuldeep Srivastava, head of Regional Weather Forecasting Centre, New Delhi.
Personalise your news feed. Follow trending topics