Odisha evacuates 800,000 people as Cyclone Fani nears coast
Updated on May 02, 2019 03:27 PM IST
The Indian Meteorological Department said Cyclone Fani is heading towards Puri with wind speeds ranging between 170-180km per hour and is expected to make landfall on Friday afternoon near Balukhanda area.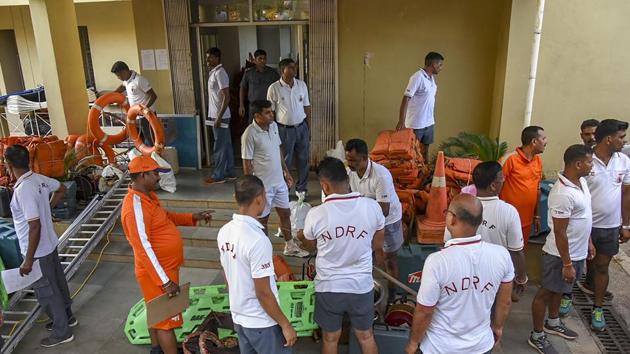 Hindustan Times, Bhubaneswar |
Debabrata Mohanty
Odisha started evacuating lakhs of people from its seaside villages and interior districts in buses and smaller vehicles on Thursday, a day before an extremely severe Cyclone Fani is expected to make landfall near the pilgrim town of Puri, officials said.
The Indian Meteorological Department said Cyclone Fani is heading towards Puri with wind speeds ranging between 170-180km per hour and is expected to make landfall on Friday afternoon near Balukhanda area.
Fani lay centred about 430 km south-southwest of Puri and 225 km off Visakhapatnam in Andhra Pradesh till 8.30am on Thursday and was moving towards the coast at a speed of 15km an hour. It is expected to travel another 30 hours over the sea before making landfall, weather officials said.
Also Read | Why Lanka changed cyclone name. Read all about naming norms
Special relief commissioner Bishnupada Sethi said at least 800,000 people on Odisha's coast, as well as interior districts, would be evacuated from their homes to cyclone shelters before Thursday evening.
"Chief minister Naveen Patnaik has set a target of zero casualties. We are sparing no effort to evacuate everyone, with special focus on children, women, old and disabled persons," said Sethi.
"We have sent 3.3 million SMS to people who are likely to be affected by Cyclone Fani through Early Warning Dissemination System from State Emergency Operations Centre," the senior official said.
"If the need arises, we would evacuate more people from their homes," he added.
Odisha has 879 multipurpose cyclone and flood shelters that can house more than 1,000 people each. In addition to it, school and college buildings are likely to be used to house the evacuated people. The livestock of the people would also be evacuated and housed at these cyclone shelters.
Also Read | It's Delhi but doesn't look like it
Senior bureaucrat Suresh Mohapatra, in charge of the rescue and relief operations in Puri, said at least 100,000 people from 150 villages on the coast as well as those on the bank of Chilika lake are being evacuated.
Mohapatra said all the tourists staying in various hotels of Puri are being sent back in special buses and a train.
"Five special buses of Odisha State Road Transport Corporation and special train with Bengali tourists would leave from Puri for Kolkata in a few hours from now," the Indian Administrative Service (IAS) officer said.
Officials said two special trains, including one at 12pm to West Bengal's Shalimar and second to Howrah at 3pm, have been arranged to evacuate tourists from Puri. The third train to Howrah will leave at 6pm, the officials added.
As Cyclone Fani is likely to disrupt rail traffic on the Visakhapatnam-Puri section, the East Coast Railway has cancelled 103 trains in the first phase and is likely to cancel more on Friday.
The South Eastern Railway (SER) has cancelled 17 trains bound for south India and Puri in Odisha. It has also decided to cancel 26 trains originating from south India, a railways official said, according to news agency PTI. Trains from Bengaluru, Chennai and Secunderabad to Howrah on Thursday evening are among those which were cancelled.
Special patrolling is also being carried out to keep their passengers safe. Breakdown vans and relief trains have been kept ready to cater to areas likely to be affected by the cyclone in the two states of Odisha and Andhra Pradesh, the official said.
Officials said a red warning, indicating the highest level of alert, has been issued for 18 districts including six coastal districts over the possibility of damage due to high winds and severe flooding. IMD officials estimate Odisha to get 20cm of rainfall, 10% of its annual average, in the next two to three days during Cyclone Fani.
While the Centre has asked the Indian Navy to be on standby along with the Indian Air Force and Coast Guard, 18 units of National Disaster Response Force have already been deployed in the coastal districts.
The Indian Navy tweeted that its ships Sahyadri, Ranvir and Kadmatt with Humanitarian Assistance and Disaster Relief (HADR) stores including food, medicines and clothing will be following the cyclone keeping south of the eye of the storm and remain standby to be the first responder when it crosses the coast.
Twenty units of Odisha Disaster Rapid Action Force and 335 units of the fire department have been deployed or are on the way to the areas likely to be affected by the cyclone.
Odisha high court would remain shut on Thursday and Friday in view of the cyclone, said Odisha High Court Bar Association officials. The state government has already shut down schools, colleges and universities and deferred scheduled examinations. Leaves of all government doctors have been cancelled.
The state government has dispatched 12 IAS and Odisha Administrative Service and 11 Indian Police Service (IPS) officers to the affected districts to oversee and coordinate relief and rescue operations.
Andhra Pradesh's chief minister N Chandrababu Naidu has also requested the Election Commission for a relaxation of the model code of conduct in four districts which will be affected by Cyclone Fani.
The West Bengal government has made elaborate precautionary arrangements to tackle the situation, an official said. An alert has been sounded in all coastal districts and people living in the coastal areas along with tourists have been asked to leave and go to safer places, the official said.
Fishermen, who have gone to the mid-sea, have been asked to return immediately.
The strongest ever cyclone to hit Odisha came in October 1999 while the second biggest, Cyclone Phailin hit the coast in October 2013. Cyclone Titli that hit Andhra Pradesh coast in October last year, had killed 61 people, many of them in tribal-dominated Gajapati district and wreaked huge damage in Odisha as it changed its direction and moved towards the northeast after making landfall.
(With agency inputs)
Personalise your news feed. Follow trending topics