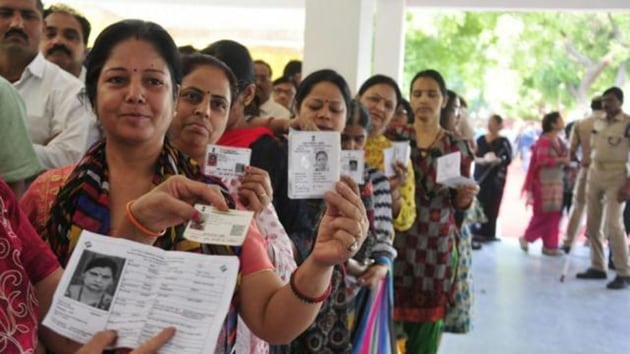 Lok Sabha elections 2019: 67%vote in Gurgaon, down from 71% in 2014
The polling booth at the Sector 56 community centre was also not operational for the first few hours. In most places across the city, there was a voting slump in the afternoon and it picked up later in the evening.
By Team HT
UPDATED ON MAY 13, 2019 08:10 AM IST
The Gurgaon parliamentary constituency witnessed a voter turnout of 67.38% in the sixth phase of the 2019 Lok Sabha polls on Sunday, according to the 10pm report shared by the Election Commission.
After 11 hours of polling, the constituency saw a lower turnout this time compared to the 2014 Lok Sabha elections, when 71.58% of the total registered voters had cast their votes.
The Gurgaon parliamentary constituency is divided into nine assembly constituencies — four in Gurugram (Sohna, Pataudi, Badshahpur and Gurgaon), three in Mewat (Nuh, Ferozepur Jhirka, and Punhana) and two in Rewari (Rewari and Bawal).
The lowest voter turnout, at 63.37%, was recorded in Punhana, whereas the highest voter turnout was registered in Pataudi, at 72%. The voter turnout in Gurgaon assembly constituency was 66%, while Nuh, which has the least number of voters, 168,590, recorded the third-highest voter turnout at 70.24%
Deputy commissioner Amit Khatri, however, said the voter turnout was fairly good. "The turnout was decent and we fared well in comparison to other districts such as Rohtak and Faridabad. As far as Mewat is concerned, the voter turnout is almost as good as the average turnout in other assembly constituencies," said Khatri.
While the voter turnout in the morning picked up in the city and Rewari, Mewat trailed. By 10 am, 11% voter turnout was recorded in Gurgaon and Rewari, whereas the turnout in Sohna, Pataudi and Bawal stood at 5%, 8% and 7%, respectively. In Mewat, Nuh, Ferozepur Jhirka, and Punhana saw a turnout of 5%, 4%, and 5.9% respectively.
By noon, however, the charts had changed, with all the three assembly constituencies in Mewat demonstrating a voter turnout of above 30%. Nuh, Ferozepur Jhirka and Punhana had recorded a turnout of 31%, 33% and 35%, respectively. Gurgaon and Badshahpur, meanwhile, had a voting percentage of 18% and 20%, respectively.
Sporadic instances of EVM malfunction were reported from Gurgaon, Sohna and Nuh, leaving people in queues dismayed for several hours. In Sohna, two EVMs and at least four VVPATs were replaced due to glitches. In the main city, incidents of malfunction were reported from Law College in Sector 40 and Sushant Lok.
The polling booth at the Sector 56 community centre was also not operational for the first few hours. In most places across the city, there was a voting slump in the afternoon and it picked up later in the evening.
Voting in Sohna was slow in the morning hours due to EVM and VVPAT malfunctions at several spots. At polling booth number 113, people had to wait for three hours due to a technical snag with the EVM.
EVM malfunction and long queues also delayed the voting process in Mewat. Incidents of altercations and violence were also reported from some places.
"There were small technical glitches at few polling stations, but nothing major was reported. Polling largely was conducted peacefully and smoothly," said Khatri.
Residents across Mewat also said that the voter turnout had also been affected due to Ramzan."Several hundred people are travelling to other states for religious congregations (jamaat). Those votes have been lost. Moreover, it is a 15-hour-long fast today. While many people came out to vote, the voting numbers would have been better if it was not Ramzan," said Mohd Azad, of Khanpur.
In the city, there was a higher voter turnout in areas such as DLF Phases 1 and 2 in the morning hours, as per the staff at the polling booths, but the crowd thinned out in the afternoon.
Polling booths in Badshahpur and Farrukhnagar towns were vacant during the afternoon and poll officers said most voters had arrived early morning to cast their votes.
The Badshahpur assembly, which has the highest number of voters (378,243), recorded a turnout of 64%.
In other parts of the city, residents said they had to wait for several hours to exercise their franchise.
"The division of voters per booths was done poorly. I have been standing here since 11am. It has been four hours now. There are around 1,300 voters in this booth," said Harsh Sehgal, 50, a resident of Nirvana Country, Sector 50.
In Rewari, meanwhile, polling started on a good note in the morning. Despite a slight dip in voter enthusiasm due to the rising heat, voting picked up in the afternoon and by 4pm, 55% of the voters had cast their vote.
The police also registered two cases— one against the presiding officer of a polling booth in Rewasan village in Nuh segment, Mohammad Shahid, for exercising undue influence and violating the model code of conduct. A police spokesperson said that another person, Wajid of Pipaka village, was booked in Sohna segment, also under Gurgaon constituency, for his alleged attempt to cast bogus vote.
Meanwhile, Haryana registered 63% voter turnout in about 19,000 booths across 10 parliamentary constituencies in the state till 6pm on Sunday as polling was marred by sporadic incidents of violence, an unsavoury incident involving a Bharatiya Janata Party (BJP) minister in Rohtak, leading to the arrest of his two aides; and registration of three criminal cases, one against a poll official in Nuh district in Gurgaon constituency. The voter turnout in the 2014 general elections was 71.41%.
Close