Only 1 LeT terrorist killed in Friday's Pulwama encounter, remaining 2 escaped: J-K police
Jun 30, 2018 06:00 PM IST
Jammu and Kashmir DGP SP Vaid had on Friday tweeted that three terrorists were killed in the encounter. However, just one terrorist's body was found at the encounter site, indicating that the other two may have escaped.
The body of only one Lashkar terrorist was recovered from the site of encounter in Pulwama district of Jammu and Kashmir, a police official said on Saturday, adding that the other two believed to have been killed apparently escaped.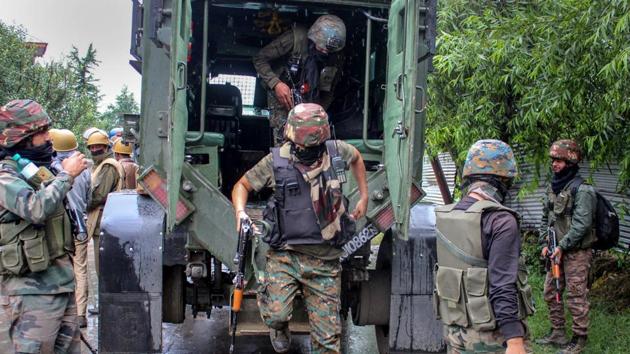 The police spokesman said the Lashkar-e-Taiba (LeT) terrorist has been identified as Sajad Ahmad Shah, a resident of Gund in Chogul area in north Kashmir's Kupwara district.
"He was involved in a number of attacks on security establishments and civilian atrocities," he said.
A rifle and ammunition were recovered from the encounter site in Thamuna village.
Security forces on Friday launched the operation in the village after receiving information about the presence of three terrorists in a house there. Director General of Police SP Vaid and army officials had said three terrorists were killed in the encounter.
"All three terrorists eliminated. Good job boys," Vaid had tweeted.
After the security operation was called off, the police official said only one body was recovered from the site of encounter. He said the initial information had suggested the presence of three terrorists in the house in the village.
"Pursuing credible leads regarding the presence of terrorists in Thamuna village of district Pulwama, a joint patrol of the security forces yesterday launched searches in the afternoon inside the village," the police spokesman said on Saturday.
He said as the search operation was progressing towards the house, the terrorists fired upon the joint patrol team of the security forces, triggering the encounter.
"The terrorists initially took few civilians hostage inside the house who were however safely evacuated by the security forces. Initial information suggested the presence of three terrorists inside the house, but as the final search was carried out, a lone body of a terrorist was recovered," the spokesman said.
He said the other terrorists apparently managed to escape after indiscriminately firing around the encounter site.
He said a civilian was killed in cross-firing during the encounter. "In the incident, five civilians were injured in cross-firing and were evacuated to hospital for treatment, where unfortunately one succumbed to his injuries. Others are stated to be stable now," he said.
A case has been registered in this connection and investigation is on, the spokesman said.
(This story has been published from a wire agency feed without modifications to the text. Only the headline has been changed.)