Arms consignment dropped by Pakistani drone recovered in J&K
On July 24, Jammu and Kashmir Police claimed it shot down a Pakistani drone carrying five kg IED in Kanachak area of Akhnoor sector in Jammu district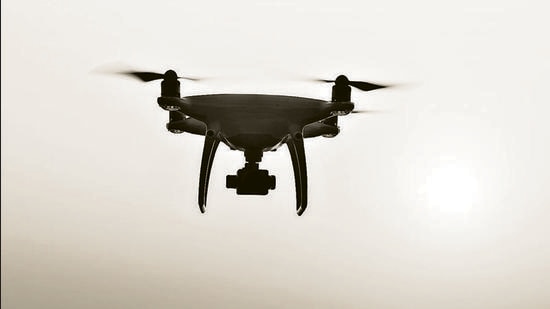 Updated on Oct 04, 2021 01:19 AM IST
Security personnel have recovered a consignment of arms and ammunition dropped by a Pakistani drone near the International Border in Jammu district, officials familiar with the matter said on Sunday.
People aware of the developments said the drone dropped the consignment past midnight at Alora Mandal in Sohanjana. "A villager heard the sound of the flying object and saw it dropping something. He informed the police," an official said.
Police immediately cordoned off the village and launched a search operation during which a yellow packet tied to strings and a wooden base to carry the payload was found, leading to the recovery of the arms and ammunition, the officials said.
Sharing details on what was recovered from the consignment, Jammu district police chief Chandan Kohli said, "The incident happened around midnight. We have recovered one AK-47 assault rifle, three AK magazines, 30 AK rounds and a telescopic sight".
Speaking on condition of anonymity, a senior police officer said, "It was a clear case of a Pakistani drone dropping arms and ammunition for the overground workers or OGWs ".
"Sohanjana is a vast area by the side of fourth Tawi Bridge where large scale encroachment took place in recent years under political patronage. The possibility of OGWs among the encroachers cannot be ruled out," the officer added.
The incident comes on the heels of suspected Pakistani drones dropping ammunition in the region. On August 23, a drone was spotted near the IB in Arnia sector, prompting the BSF to open fire at it. On July 24, police said they shot down a Pakistani drone carrying a five kg-IED in Kanachak area of Akhnoor sector in Jammu district.
...
Close Story