Issue of atrocities against Dalits shouldn't be publicised: Rajnath in LS
Updated on Aug 11, 2016 08:14 PM IST
Parliament discusses on Thursday the atrocities on Dalits, with Bahujan Samaj Party (BSP) chief Mayawati demanding a statement from Prime Minister Narendra Modi in the House.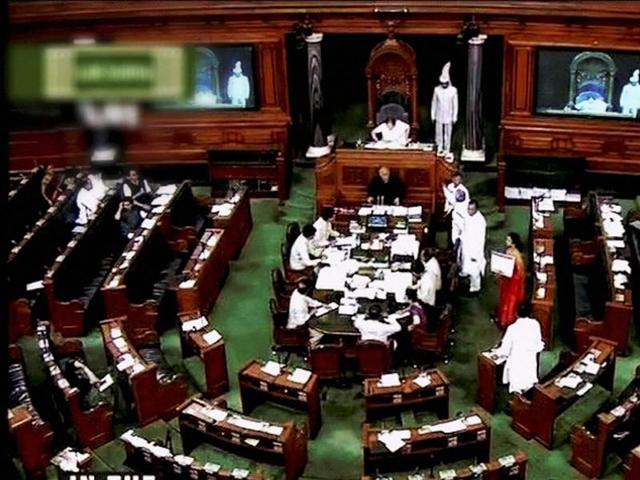 Hindustan Times |
, New Delhi
Sandip Bardhan and Neha Mahajan
Parliament on Thursday discussed the issue of atrocities on Dalits, with Bahujan Samaj Party (BSP) chief Mayawati demanding a statement from Prime Minister Narendra Modi in the House.
On Sunday, Modi condemned caste discrimination and the recent attacks on the scheduled castes. But Mayawati, a former chief minister from Uttar Pradesh, alleged that Modi's statements were an exercise in "damage control".
Attacks on Dalits triggered a debate in the wake of the flogging of four Dalit men, who were skinning a dead animal, by alleged cow protectors in Gujarat. The protests that followed apparently pushed the ruling Bharatiya Janata Party on the back foot ahead of next year's assembly polls in Uttar Pradesh, Punjab and Gujarat --- which have a sizeable Dalit community.
Below are the highlights of the debate:
8:10pm: Lok Sabha has been adjourned for the day.
8:08pm: I expect all state governments and Centre to take stern action in case of atrocities against Dalits, says Rajnath Singh ashe concludes his reply.
8:00pm: We celebrated Ambedkar's 125th birth anniversary because we respect his contribution to Constitution: Home minister Rajnath SIngh.
7:54pm: Our PM has taken steps for socio-economic development of Dalits, says Singh
7:49pm: Congress stages walkout from Lok Sabha during Rajnath Singh's reply.
7:48pm: Had we thought about socio-economic development of Dalits earlier, we wouldn't have been facing such situation today, says Singh.
7:44pm: What happened in Una is painful and condemnable. The state govt took whatever steps it could, says home minister
7:43pm: What you (Congress) couldn't do in 55 years, our govt did in 2years, says Rajnath Singh.
7:41pm: In 2013, 39,346 cases of atrocities against SCs were registered. In 2014, 40,300 cases and in 2015, 38,564 cases of atrocities were registered, says home minister.
7:37pm: Our government is making laws to curb crimes against Dalits, says Rajnath Singh.
7:33pm: We shouldn't politicse the issue of atrocities against Dalits, says Rajnath Singh.
7:32pm: Home minister Rajnath Singh speaks on atrocities against Dalits
7:28pm: PM talks in Madhya Pradesh and Telangana about Dalits and Kashmir issue. But why not in the Parliament, asks Scindia.
7:20pm: We talk about Swachh Bharat but it's our hearts that need to be clean, not the streets, says Congress' Jyotiraditya Scindia.
7:15pm: Muslims can never be part of Hindu nationalism, says Owaisi.
7:14pm: For the first time we are seeing skin for a skin. The credit goes to the ideology of the ruling party, says AIMIM's Asaduddin Owaisi.
7:11pm: Three incidents have shaken the secular fabric of our country. Political parities have to take a clear stand to protect the interests of SCs and STs, says NK Premachandran.
7:09pm: It is an accepted fact that atrocities against Dalits are increasing everyday, says RSP's NK Premachandran.
7:05pm: Atrocities gainst Dalits is not an issue related to one party, says Paswan
6:54pm: We have got political freedom but not economic freedom, says Paswan.
6:52pm: Even after 69 years of independence, there are two Indias, says Ram Vilas Paswan
6:10pm: Varaprasad Rao Velagapalli, the Tirupati (Andhra Pradesh) MP of the YSRCP, speaks.
6:05pm: Let us come together to end the atrocities, says Naidu.
6:00pm: Let us create social awareness among people, says Naidu.
5:57pm: Blaming someone (for atrocities on Dalits) may give you momentary gain, Naidu tells Opposition, but won't solve the problem.
5:56pm: The real challenge is to eradicate a social problem, says Naidu.
5:55pm: Information and broadcasting minister M Venkaiah Naidu speaks.
5:47pm: Seetaram Ajmeera Naik, the TRS MP from Mahabubabad (Telangana), speaks.
5:40pm: There are so many barriers in India, says Pandula.
5:30pm: Ravindra Babu Pandula, the TDP MP from Amalapuram (Andhra Pradesh), speaks.
5:28pm: The Modi government is aiming at the economic and social development of the backward classes, says Meghwal.
5:23pm: The Dalit society knows which party wants their upliftment, says Meghwal, taking a dig at the Opposition.
5:15pm: Meghwal lists out the steps taken by the government for social welfare.
5:05pm: Arjun Ram Meghwal, the MoS finance, corporate affairs, speaks.
5:03pm: Atrocities on Dalits should not be politically exploited, says Lokhande.
5:00pm: Sadhashiv Kisan Lokhande, the Shiv Sena MP from Shridi (Maharashtra), speaks.
4:55pm: India needs social reformers, says Mahtab.
4:54pm: No political party has taken up the responsibility to bind all groups together, Mahtab says.
4:49pm: Mahtab talks about Mahatma Gandhi's ideology.
4:39pm: Bhartruhari Mahtab, the BJD MP from Cuttack (Odisha), speaks.
4:33pm: Why did the PM take so much time to make a statement after the July 11 Una incident? Roy asks.
4:30pm: Roy talks of "atmosphere of intolerance" in the country.
4:28pm: Cases of atrocities against Dalits are fewer in West Bengal, Roy says.
4:25pm: Saugata Roy, Trinamool Congress MP from Dum Dum, speaks.
4:15pm: "Justice delayed is justice denied", says Gopal, demanding speedy trial of cases of atrocities on Dalits.
4:10pm: K Gopal, the AIADMK MP from Nagapattinam, speaks.
4:05pm: Had our foundation been strong, we would not have reached such a situation, says Raj.
4:00pm: Why does only Dalit have to help Dalits every time? Raj asks.
3:55pm: In the West, education has so much power that breaks the barriers of discrimination, Raj says, and adds: "Why can't our education system be like that?"
3:50pm: Udit Raj, BJP MP from north-west Delhi, speaks.
3:40pm: Dalits are working hard for the development of this country, says Muniyappa as he asks: "What is the government doing...where is democracy?"
3:35pm: The number of incidents against Dalits has shot up in the past two years, says Muniyappa.
3:30pm: Muniyappa rakes up the suicide of Dalit scholar Rohith Vemula at the University of Hyderabad. His death sparked a debate on caste discrimination. Muniyappa says he was forced to commit suicide.
3:25pm: Many Dalits voted for the BJP for the magic of Modiji, but now they are seeing what is happening, says Muniyappa.
3:20pm: Congress governments have always supported Dalits, says Muniyappa. But the same confidence is not there is the BJP rule, he adds.
3:15pm: KH Muniyappa, the Congress MP from Kolar (Karnataka), speaks
Personalise your news feed. Follow trending topics