Partition wouldn't have happened if Jinnah had become PM: Dalai Lama
Updated on Aug 08, 2018 11:08 PM IST
The Tibetan spiritual leader said he thinks Mahatma Gandhi was willing to give the prime ministership to Jinnah but Nehru refused.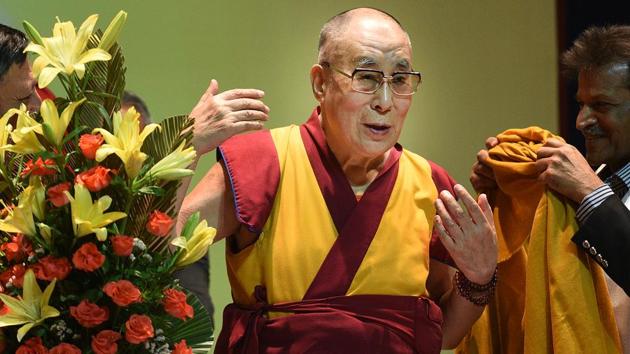 Hindustan Times, Panaji |
Gerard de Souza
India would have remained a united country if Jinnah had become the first prime minister, the fourteenth Dalai Lama said in Goa on Wednesday.
Speaking at an event organised by Goa Institute of Management to kick off its silver jubilee celebrations, the Dalai Lama said the "mistake" has cost India.
"Mistakes always happen. Now, look at India. I think Mahatma Gandhi ji was very much willing to give prime ministership to Jinnah. But Pandit Nehru refused. I think Pandit Nehru's was a little bit self-centred," he said. "Pandit Nehru, I know very well, was a very experienced person, very wise, but sometimes mistakes happen."
He was answering a question asked by a student on how to "make sure we don't take wrong decisions due to our emotions while making these choices."
The Dalai Lama, living in exile in India since he fled Chinese forces in 1959. "I had a lot of discussion with Nehru. On one occasion, Nehru told me that America will not go to war with China to liberate Tibet... And, he told me that sooner or later you will have to discuss the issue with the Chinese government. So in 1974, we decided not to seek independence. But history is history," the Dalai Lama said.
"I am one of the admirers of the European Union. They think they consider common interest is more important than national sovereignty... So that's very practical, very realistic... We had to consider whether separate, independent (Tibet) will be more beneficial or remaining in the People's Republic of China..."
"So, therefore, from our side, we are open. But Chinese officials still consider me a separatist. But, all over the world those with some knowledge of Tibet they know that we are not seeking independence," he added.