Ukraine war, Indo-pacific, defence ties, roadmap 2030 focus at India-UK talks
Published on Apr 22, 2022 12:18 PM IST
Boris Johnson India visit: The UK PM visited PM Modi's home state of Gujarat on the first day of his visit.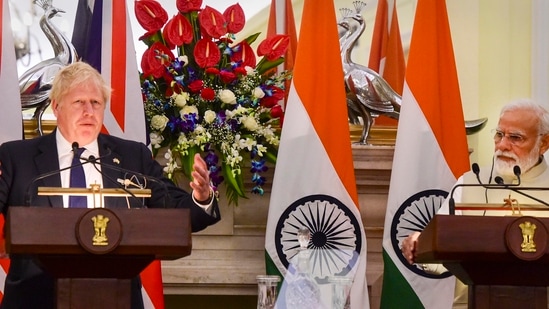 An immediate end to the violence in Ukraine, deepening of climate and energy partnership, and keeping the Indo-pacific region "free and open" remained the focal talking points of the discussions on Friday between Prime Minister Narendra Modi and the United Kingdom's Boris Johnson. The British PM began his two-day India visit from Gujarat, PM Modi's home state, on Thursday. The two countries signed a new defence cooperation agreement on Friday and will look to complete a free trade deal by the end of the year. "We reviewed progress made in implementation of 'Roadmap 2030' and also set some goals for future," PM Modi said.
Here are ten points on the India-UK talks:
1. "We stressed on dialogue and diplomacy in Ukraine for an immediate ceasefire and resolution of the problem. We also reiterated the importance of respect for the territorial integrity and sovereignty of all countries," PM Modi said at a joint press briefing on Friday afternoon.
2. Boris Johnson's India visit assumes significance since he met Ukraine's Volodymyr Zelensky in Kyiv very recently. The UK has been relentlessly telling Russia to end violence in the country. It has also introduced sanctions. Moscow launched the Ukraine offensive on February 24.
3. "PM Boris Johnson's visit to India during 'Azaadi Ka Amrit Mahotsav' (75th year of India's independence) is historic," the prime minister said, adding that India welcomes the UK's decision to join the Indo-Pacific Oceans Initiative. Johnson replied saying he was overwhelmed with India's welcome.
4. Both nations agreed on the need for a free Indo-Pacific region. "Since last year, the threats of autocratic coercion have grown even further, therefore it is vital we deepen our cooperation including our shared interest in keeping the Indo-Pacific open and free," Johnson said.
5. "We have had wonderful talks today and have strengthened our relationship in every way. The partnership between India and Britain is one of the defining friendships of our times," he added.
6. UK Prime Minister Boris Johnson said Britain will also help India build its own fighter jets.
7. The two countries have a "shared interest in keeping the Indo-Pacific open and free", Johnson said on Friday, calling the new partnership "a decades-long commitment".
8. PM Modi also raised concerns over Afghanistan. "It is necessary that Afghan territory is not used to spread terrorism in other countries," he said.
9. The two countries also agreed that progress was being made in terms of free-trade agreement.
10. Earlier, the British PM had insisted that, "I don't think the relationship has ever been as good."
(With inputs from PTI, Reuters)
Close Story
Personalise your news feed. Follow trending topics