Priest who testified against bishop in Kerala nun rape case died natural death, indicates autopsy report
Oct 25, 2018 09:36 PM IST
Father Kuriakose Kattuthara was found dead under mysterious circumstances in his room on the Catholic Church premises in Dasuya. His family and supporters of the nun had said they suspected foul play.
A preliminary post-mortem report has not found any internal or external injury on the body of Father Kuriakose Kattuthara, who was found dead on Monday, suggesting that he died a natural death.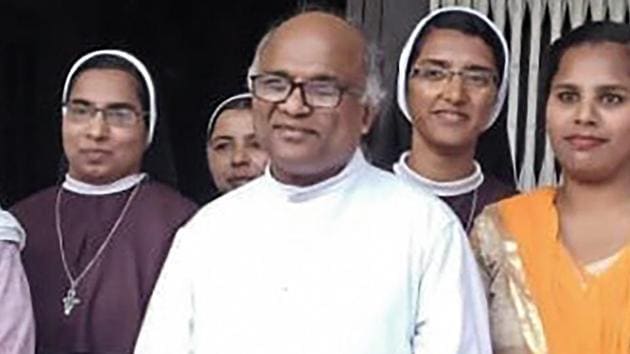 A native of Kerala's Allepy, Kattuthara, 61, was a key witness in the Kerala nun rape case and had testified against accused Jalandhar bishop Franco Mulakkal. He was found dead under mysterious circumstances in his room on the Catholic Church premises in Dasuya, 40 km from here, and his family and supporters of the nun said they suspected foul play.
A four-member board, including Dr Jaswinder Singh (forensic medicine), Dr Kulwinder (medicine), Dr Shalinder (ENT) and Dr Harshpreet Kaur (pathology) Tuesday conducted an in-camera post-mortem of Kattuthara at the Dasuya civil hospital.
"We have not found any external or internal injury on the body," said senior medical officer, Dasuya civil hospital, Dr Devinder Puri, adding the exact reason of the death could be known after they get the viscera report from the Kharar forensic lab.
The post-mortem was video-graphed after Kuriakose's family said they may seek a second autopsy in Kerala in case they were not satisfied with the report.
But on Wednesday, Kuriakose's cousin John Thomas said they will not get the second post-mortem done as they were satisfied with the proceedings.
Thomas and Kuriakose's brother Jose Kurian had earlier reached Dasuya to lodge formal complaint casting aspersions on the 'natural death' theory. After Kurian Tuesday filed a police complaint, alleging his brother was being harassed by Mulakkal and his supporters, the police had initiated inquest proceedings. The body was handed over to the family on Tuesday after the post-mortem, taken to Delhi from where it was airlifted to Kerala on Wednesday.
The funeral of Father Kuriakose was held Thursday at St Mary's Forane Church in Kerala's Pallippuram.
Sister Anupama, who was at the forefront of protests demanding the arrest of bishop Mulakkal, was heckled by her colleagues at her own parish and was asked to leave the cemetery as the funeral was underway, reported IANS.
Reacting to the incident, Anupama, who was accompanied by other nuns, broke down and said she was "deeply hurt" by the protests. "I am from this place. I know Father Kattuthara for many years. He has seen me as his own daughter... we have only stood for truth," she said.