Rajya Sabha passes bill to restore SC/ST Act
Updated on Aug 09, 2018 11:27 PM IST
The Lok Sabha had already passed the bill, it is now set to become a law following the President's assent.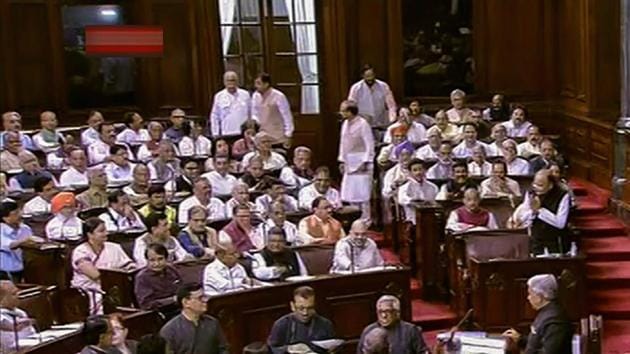 The Rajya Sabha on Thursday passed the Scheduled Caste and Scheduled Tribes (Prevention of Atrocities) Amendment Bill, 2018, which seeks to overturn a Supreme Court order that struck down the provision for immediate arrest of those booked under the Act. The Lok Sabha has already passed the bill.
Social justice minister Thaawarchand Gehlot said during a discussion on the bill, "Prime Minister Narendra Modi has repeatedly spoken about it [welfare of Dalits]. He has also made it very clear that his government is for the Dalits, the poor and the weaker sections."
Opposition parties had alleged that the government brought this bill under pressure from its allies and Dalit groups. Gehlot denied the allegations.
On March 20, the Supreme Court had ruled that to arrest those accused of an offence under the said act, an approval of the concerned senior SP will be required. Further, a deputy SP may conduct a preliminary inquiry to find out if prima facie, a case can be made under the act.
Thursday's bill eliminates the need for approval for an arrest. It also does away with the preliminary inquiry. Persons booked under the act cannot apply for anticipatory bail.
Gehlot added that a provision of special courts has also been included and 14 states have already established 195 courts for this purpose. Under the new law, an investigation has to be completed and charge sheet filed within 60 days.
Lok Janshakti Party president and Union minister Ram Vilas Paswan said, "This is a befitting reply to the opposition parties which called the NDA government anti-Dalit."
Opposition members supported the bill but were apprehensive of the government's intentions. Abir Ranjan Biswas of the TMC said "we are supporting the bill but the feelings of the government are not genuine. They have brought the bill only after nine people were killed and many injured in a nationwide protest against the Supreme Court judgment."
Ram Chandra Prasad Singh of the Janata Dal (United) also supported the bill but suggested that the cases of deaths be investigated by a senior ranking police officer. and above level,
Ruckus in LS & RS
Meanwhile, the Opposition took on the government over the Rafale fighter jet deal in both Houses.
In the Rajya Sabha, they staged a sit-in demanding a Joint Parliamentary Committee (JPC) probe into the deal, causing a brief adjournment.
Meanwhile, in the Lok Sabha, a verbal duel broke out between Congress's Mallikarjun Kharge and Union minister Piyush Goyal over the issue.
Personalise your news feed. Follow trending topics