Rapists should be brought out in public, lynched: Jaya Bachchan in Rajya Sabha amid uproar over Hyderabad case
The Hyderabad case rocked both the Houses of Parliament on Monday with the lawmakers calling for stricter laws against crimes against women.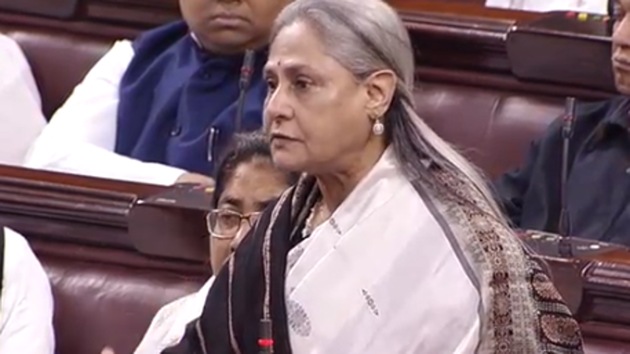 Updated on Jul 31, 2020 07:22 PM IST
Hindustan Times, New Dlehi |
HT Correspondent
Samajwadi Party leader Jaya Bachchan said on Monday those accused of rape must be lynched as members raised the issue of the gang rape and murder of the Hyderabad veterinarian last week in both Houses of Parliament.
The 26-year-old Hyderabad vet was allegedly raped and killed by four men and her charred body was found last Thursday under a culvert just off National Highway 44 in Chatanpally bridge near Shadnagar town in the Ranga Reddy district.
The men accosted her near the Shamshabad toll plaza on Wednesday evening, where she had parked her scooterette. Police said the men had offered to help her fix the punctured tyres of her vehicle.
"I think the people now want the government to give a proper answer and a very definite answer. What has happened? How they have tackled it and how far justice has been done to these people?" Rajya Sabha member Jaya Bachchan said.
Watch l Hyderabad rape shocker: Jaya Bachchan says accused should be lynched
"A similar incident happened in Hyderabad a day before the vet was raped. Do you not think the security incharge should be questioned and they should be asked to give an answer why they were not able to protect that area?" she asked.
"I think these people need to be shamed in front of the entire country. People who have not done their jobs properly. These kind of people (the accused) should be brought out in public and lynched," Jaya Bachchan said.
Congress' Amee Yajnik requested the judiciary, legislative, executive and other systems to come together to see that a social reformation takes place in the country.
"This should be on an emergency basis," Yajnik said in the Upper House.
Senior Congress leader Ghulam Nabi Azad also brought up the matter in the Upper House and said that such problems cannot be solved by merely making laws.
"To eradicate such acts, there is a need that we take a stand together against such crimes," Azad said.
All India Anna Dravida Munnetra Kazhagam (AIADMK) MP Vijila Sathyananth said that the accused must be hanged before December 31.
"The country is not safe for children and women. A fast track court should be set up. Justice delayed is justice denied," she said.
The issue was also raised in the Lok Sabha.
"Parliament is worried about the incidents happening across the nation. I have given permission for discussion on this after Question Hour," Speaker Om Birla said.
Defence minister Rajnath Singh said in the Lok Sabha that the rape and murder of the veterinary doctor has brought shame to the entire country.
"It has hurt everyone. The accused must be given the most stringent punishment for their crime," Singh said.
The four accused forcibly poured liquor in the victim's mouth while raping her, news agency IANS had reported quoting a police document. They then took the unconscious victim to a truck cabin where they raped her again before heading towards Shadnagar town on the outskirts of Hyderabad, said the report.
The four men have been arrested and three policemen have been suspended for "dereliction of duty". The accused were remanded to 14-day judicial custody on Saturday.
Telangana chief minister K Chandrashekhar Rao directed officials on Sunday to ensure that the accused are tried in a fast track court after the Hyderabad vet's rape and murder led to massive protests in Telangana and an outpouring of rage across the country.
Close Story
Personalise your news feed. Follow trending topics