RSS icon Deendayal Upadhyay's image to feature in official correspondence of Rajasthan govt
Updated on Aug 06, 2017 08:11 AM IST
The BJP's move drew an angry reaction from the opposition Congress, which accuses the Narendra Modi government at the Centre of trying to impose Hindutva ideology in the country and of turning controversial figures into icons.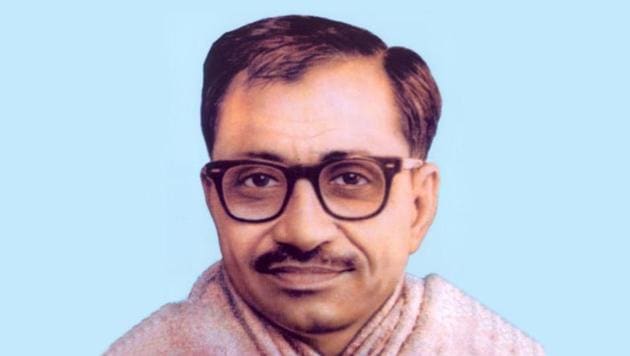 The BJP has asked its elected representatives in Rajasthan to use a logo featuring a photograph of RSS icon Deendayal Upadhyay on their letterheads for all official correspondence, senior party leaders and officials told HT on Saturday.
The move drew an angry reaction from the opposition Congress which accuses the BJP government at the Centre of trying to impose Hindutva ideology in the country.
BJP national joint secretary and Rajasthan in-charge V Satish gave instructions for using the logo during a party meeting in Jaipur on Friday, a senior BJP leader said.
The meeting was attended by the heads of various municipal corporations, commissions and boards. The logo will also be used by ministers on their letterheads.
"We were shown a sample of the logo with photos of Pt Deendayal Upadhyay and other senior BJP leaders. We have been directed to print the logo on letterheads within two or three days," Bharatpur mayor Shiv Singh Bhont told HT.
Upadhyay was a founding member of the Bharatiya Jana Sangh, a political party formed by the RSS, the idealogical fountainhead of the BJP. The Bharatiya Jana Sangh was the forerunner of the BJP.
The Narendra Modi-led government has named several programmes and schemes after Upadhyay.
Another senior BJP leader based in Jaipur also confirmed the move.
"We have been asked to use the logo and will soon comply with the party directive," he said, requesting anonymity.
The Congress objected to the proposed move.
"The heads of local bodies are representatives of the government and not that of the party. By asking them to include a logo of Deendayal Upadhayay on their letterheads, the BJP is trying to promote a person who has not made any contribution to the nation," Rajasthan Congress spokesperson Archana Sharma told HT.
"It's a misuse of official machinery to push forward their ideology," she added.
State BJP president Ashok Parnami could not be reached for comments despite repeated attempts.
As as part of Deendayal Upadhyay's birth centenary celebrations last year, the BJP had asked party spokespersons to use the logo in all the party's official correspondence and press notes.
Over the past few years, several BJP-ruled states including Rajasthan, Gujarat, Haryana and Maharashtra have faced allegation of saffronising education by changing schoolbooks.
HT has earlier reported that from the current academic session, RSS icons such as Veer Savarkar, Upadhyay and Shyama Prasad Mukherjee, have been given prominently featured in revised textbooks published by the Rajasthan education board.
State education minister Vasudev Devnani, an electrical engineer associated with the RSS since college, has called the process a cultural reform.
(With inputs from Suresh Foujdar in Bharatpur)
Personalise your news feed. Follow trending topics