Rural incomes slow down, may necessitate stimulus
Updated on May 14, 2019 09:39 AM IST
Several consumer product firms that reported tepid January-March results have attributed this to falling rural sales.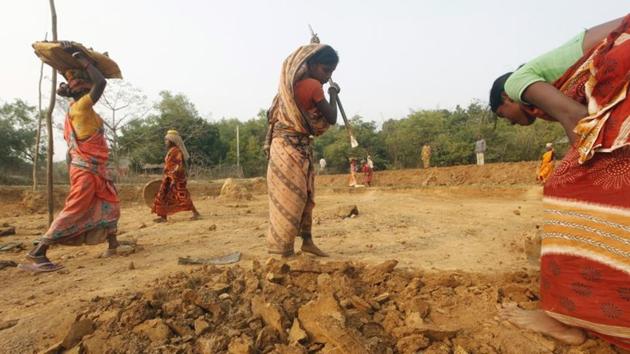 Rural wages, critical for the overall economy, barely rose during 2018-19, stoking a slowdown in demand, consumption and corporate earnings.
Several consumer product firms that reported tepid January-March results have attributed this to falling rural sales. Some economists say the situation is grave enough to warrant a stimulus by the incoming government.
Real or inflation-adjusted agricultural wages grew 2% in February, compared to a 1.5% rise the previous month. Similarly, growth in real non-farm wages has been weak. They grew 1.4% in February, compared to 2% the previous month.
According to data from the labour bureau reviewed by Hindustan Times, neither measure has risen above 4% in the past nine months. Together, they convey a picture of depressed rural earnings. Last year, rural wages actually declined during several months. For instance, real or inflation adjusted growth in agricultural wages remained in the negative territory for each of the four months between April and July 2018.
"I think a collapse in agricultural prices has really taken the shine out of the rural sector," said NR Bhanumurthy of the National Institute of Public Finance and Policy. He said it's puzzling that income transfer schemes such as PM-KISAN haven't helped much. "Probably it came too late."
Steadily growing rural wages fuel demand for manufactured goods. Higher consumption demand quickens the pace of economic activity, as consumer companies step up their output.
The fourth quarter saw several macroeconomic and corporate indicators slump. For instance, sales in India's largest consumer goods manufacturer Hindustan Unilever fell to their lowest in 18 months in the January-March quarter. The company attributed the fall to "moderating rural demand".
The country's factory output, as measured by the Index of Industrial Production (IIP), contracted or registered negative growth in March for the first time in 21 months, shrinking 0.1%, an obvious sign of slowing demand in the economy. Within IIP, manufacturing output shrunk 0.4% in March, mining and electricity saw weak growth at 0.8% and 2.2%, according to the Central Statistics Office data.
"I think we certainly need some sort of a stimulus now," Bhanumurthy said, adding that it also needs to be seen if a spate of farm loan waivers has adversely affected rural lending, which is vital for the informal sector. Economist Abhijit Sen said rural lending may not have gone down, but that it hasn't increased to the levels it should have.
Acknowledging a slowdown, the finance ministry, in its "Monthly Economic Report" for March, identified a drop in private consumption and muted exports as reasons. "On the supply side, the challenge is to reverse the slowdown in growth of the agriculture sector and sustain the growth in industry," the report said.
Close Story
Personalise your news feed. Follow trending topics