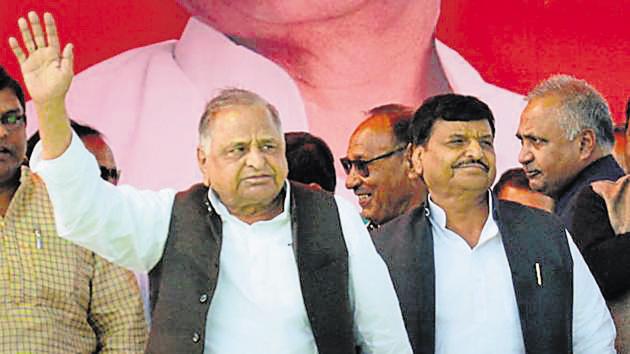 Samajwadi Party feud: Shivpal Yadav announces new front with Mulayam as chief
Samajwadi Party leader Shivpal Yadav on Friday announced he was floating a new political party to be headed by his elder brother Mulayam Singh Yadav. The new outfit will be called the Samajwadi Party Secular Morcha, said Shivpal Yadav, the estranged uncle of former Uttar Pradesh chief minister Akhilesh Yadav.
UPDATED ON MAY 05, 2017 07:35 PM IST
Dissident Samajwadi Party leader Shivpal Yadav said on Friday he will form within three months an all-India secular front that will be led by his brother and former chief minister Mulayam Singh Yadav.
The 62-year-old leader didn't make it clear if he was walking out of the Samajwadi Party to form the Samajwadi Secular Morcha (SSM). Neither did he specify if the new front will enter electoral politics.
If Shivpal forms a new party and the Samajwadi Party expels him then he will remain an unattached state lawmaker. He can be disqualified only if he resigns from the SP or defies the party whip during a vote in the state assembly.
The development comes weeks after the Samajwadi Party suffered a bruising defeat in the state elections that was blamed on a months-long feud between Shivpal and his nephew Akhilesh Yadav over control of the party.
"For social justice, a secular front will be formed. Netaji (Mulayam) will be its national president," Shivpal told reporters in Etawah, the Yadav clan's bastion.
"He is very much on the board. Without his blessings we would not have taken such a major step," Shivpal told Hindustan Times.
Reacting to the front, Akhilesh told reporters, "It is nice that a secular front is coming up. I do not have any idea yet in what form it will come up. Samajwadi people are always ready to take a test and they also pass those tests. Secular front should indeed come up."
At an event later in the evening, the former CM said: "I have the bicycle. Mulayam is with us," he said, referring to the SP's political symbol.
Shivpal, a former SP state president, had recently said a secular front would be formed if Akhilesh did not hand over the reins of the party back to his father Mulayam in three months.
Close