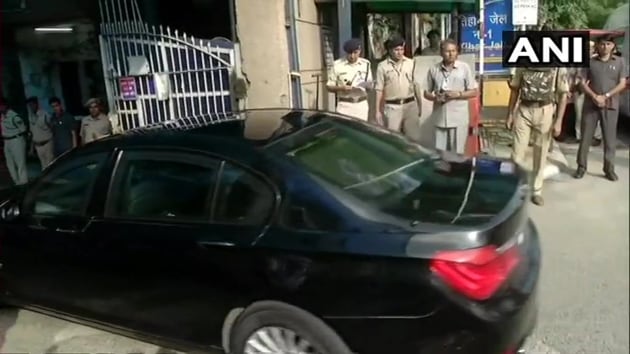 Sonia Gandhi, Manmohan Singh reach Tihar jail to meet Chidambaram to make a point
Former Union finance minister P Chidambaram has been in jail since September 5 in connection with the INX Media case filed by the CBI. He has failed to get any relief from the courts in the last three weeks.
Hindustan Times, New Delhi | By Neeraj Chauhan
UPDATED ON SEP 23, 2019 11:12 AM IST
Congress president Sonia Gandhi and former prime minister Dr Manmohan Singh drove down to the national capital's Tihar jail on Monday morning to meet former finance minister P Chidambaram.
The visit is designed to show the party's complete backing for the former finance minister who was arrested by the Central Bureau of Investigation in the INX Media case.
Jail officers said Gandhi and Singh reached Tihar at around 9 am and went directly to jail number 7 where they spoke to Chidambaram for about half an hour. They said they were informed of the former prime minister and the Congress President's visit only in the morning. The two may have come early to ensure that security restrictions and protocol do not come in the way of other prisoners meeting their families inside prison.
Chidambaram, who the Congress says was being targeted because of political vendetta, was remanded in judicial custody earlier this month after being grilled by the agency for nearly a fortnight.
His request for bail is pending before the Delhi High Court in the CBI case. But Congress leaders apprehend that the Enforcement Directorate, which is probing allegations of money laundering, could move in once the veteran Congress leader, who turned 74 last week, is released on bail.
The Supreme Court has denied his request for protection from arrest in the money laundering case. Over the past few weeks, the two investigating agencies have told courts that Chidambaram could influence the investigation or flee if released on bail.
P Chidambaram on Sunday took a swipe at his critics on Twitter that is being handled by his family. "I am thrilled to discover that , according to some people, I will grow golden wings and fly away to the moon . I hope I will have a safe landing," Chidambaram said on Twitter. His account is being handled by his family.
The CBI is probing alleged irregularities in the grant of Foreign Investment Promotion Board (FIPB) clearance to INX Media for receiving foreign investment to the tune of Rs 305 crore in 2007, when Chidambaram was finance minister in the Congress-led United Progressive Alliance (UPA) government. CBI registered an FIR in the case on May 15, 2017.
The former minister was sent to Tihar jail on September 5 at the end of his custodial interrogation by the CBI, which arrested him on August 21. His first stint in Tihar was for 14 days after which the CBI court in Delhi, on September 20, extended his judicial custody by two more weeks. Special Judge Ajay Kumar Kuhar had remanded Chidambaram to custody until October 3.
Chidambaram has been alloted a single high security cell inside Tihar.
Since Chidambaram's arrest the prison has seen many senior political leader visit the former minister in jail. Senior leaders Ahmed Patel and Ghulam Nabi Azad visited Chidambaram last week.
Close