Takam Pario, the richest Arunachal MLA, may replace Pema Khandu as CM
Arunachal CM Pema Khandu, his deputy Chowna Mein and five other legislators of ruling Peoples' Party of Arunachal (PPA) were suspended temporarily on Thursday for alleged anti-party activities.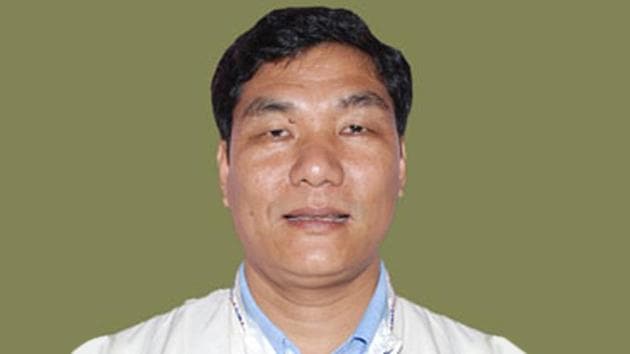 Updated on Dec 30, 2016 07:46 PM IST
Hindustan Times |
Utpal Parashar, Guwahati
Arunachal Pradesh plunged into a political crisis on Friday after the ruling party temporarily suspended chief minister Pema Khandu and six legislators, allegedly pitching one of his ministers for the top post.
The 37-year-old Khandu refused to resign, despite the Peoples' Party of Arunachal (PPA) reportedly backing public health and engineering minister Takam Pario, the easternmost state's richest legislator with declared assets of Rs 187 crore, as his replacement.
Party president Kahfa Bengia suspended the chief minister, his deputy Chowna Mein, and five MLAs for alleged anti-party activities late on Thursday.
"There were complaints by most MLAs that Khandu and six other legislators were indulging in activities which were hurting the PPA. Hence, it was decided to suspend them," PPA chairman Kamen Ringu said.
Deputy chief minister Chowna Mein dismissed the allegations as baseless and motivated.
"This is a blow from the back to upset a stable government that has been working sincerely for the state's development. We were not given any intimation or asked for an explanation," Mein said.
The PPA move met a roadblock with just 12 of its 43 lawmakers backing Pario.
Coalition partner BJP, which has 13 MLAs in the 60-member assembly, decided to support Khandu.
BJP state president Tapir Gao assured that there was no threat to the Khandu government. "We continue to support him. Thirty of the 43 former Congress MLAs who joined the PPA also back him. There is no threat to his chair," he said.
Tamiyo Taga, a BJP leader and minister, maintained the party's line, saying it is not going to accept the decision that the PPA took without consulting its partner.
Khandu became chief minister in July following similar sudden and fast-changing events that the hill state recorded early this year. He was with the Congress then.
Prior to his elevation, political uncertainty dominated the state after senior minister Kalikho Pul broke away from the Congress government of Nabam Tuki with 24 MLAs to form a PPA government in February.
His government was removed after a Supreme Court verdict reinstated Tuki. But with most Congress MLAs backing Khandu, Tuki had to make way in July. A dejected Pul committed suicide in Itanagar in August. A month later, Khandu deserted the Congress with 42 MLAs to join the PPA in September.
Close Story
Personalise your news feed. Follow trending topics